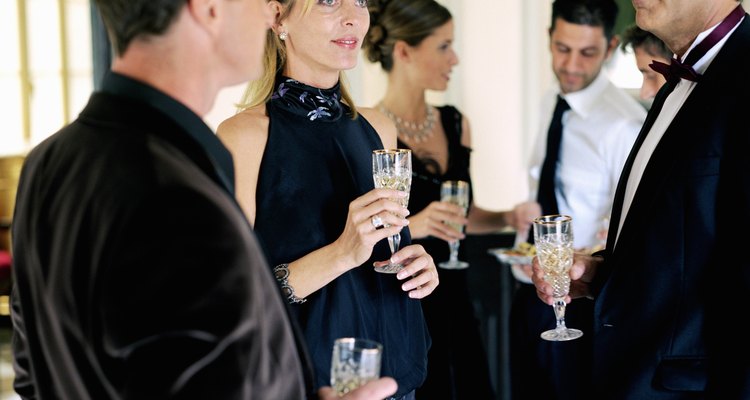 Allan Danahar/Digital Vision/Getty Images
Black and White attire is formal adult evening wear. It is reserved for enchanting occasions like operas, receptions and glamorous soirees. An example is the famous masquerade ball held by Truman Capote in 1966. As the name indicates, guests wear black and white only. Unless stated as "Tie Optional," the dress code is neither optional nor casual. Ask the host or hostess if you are unsure. Behavioral etiquette for such events is a study all its own, but the dress code is easy to follow.
Dress Etiquette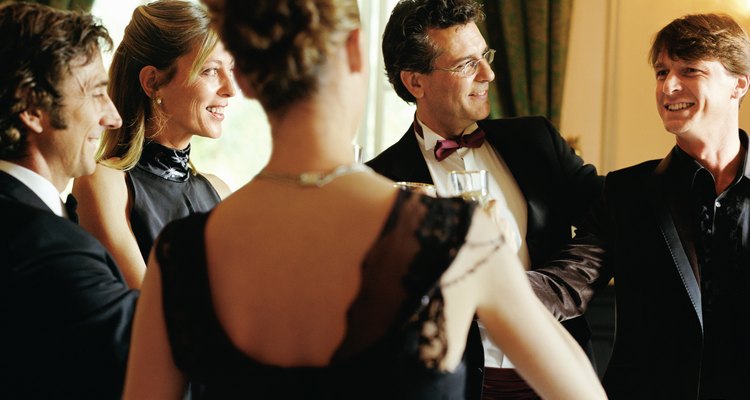 Allan Danahar/Digital Vision/Getty Images
A Black and White event calls for formal attire in black, white, or blended (black-and-white) color. All guests adhere to this guideline. The varied styles of dress at a Black and White occasion offer some diversity. Liberal attire is increasingly evident in cities such as Los Angeles and New York, where climate and fashion have redefined formal comfort.
The first rule of etiquette is to dress appropriately. Honor the color code and choose solids over patterns. Do not show up in a red dress or baggy gray suit. Events after 6 p.m. call for evening wear. Daytime dress is not appropriate, even if flattering. Avoid informal clothes at all costs, unless the invitation extends this permission. Men sport proper suits or tuxedos, dress shirts, straight or bow ties and black leather shoes. Women wear gowns, evening dresses, cocktail dresses or elegant separates. Jewelry is traditionally pearl, clear diamond or onyx according to the themed palette. Avoid metals. A wrap or shawl is appropriate for cold.
When in doubt, overdress. It is better to err on the side of formality. Clothing should be clean, pressed and worn with dressy flats or heels. Purses are small elegant clutches and wallets are concealed to avoid unsightly bulges. Ladies, please take care that the seams or straps of your undergarments do not show. Use fashion tape to secure them if necessary. Gentlemen, please wear fitted suits or tuxedos. If necessary, have them tailored.
Complement your attire with proper grooming. Nails must be clean and hair combed. Avoid heavy colognes or perfumes, and use heavy makeup only for photographically recorded events. For customary occasions, men should be shaven or trimmed. Women may don up-dos, loose twists or styled cuts. For less formal occasions, any style goes.
Black Tie and White Tie Customs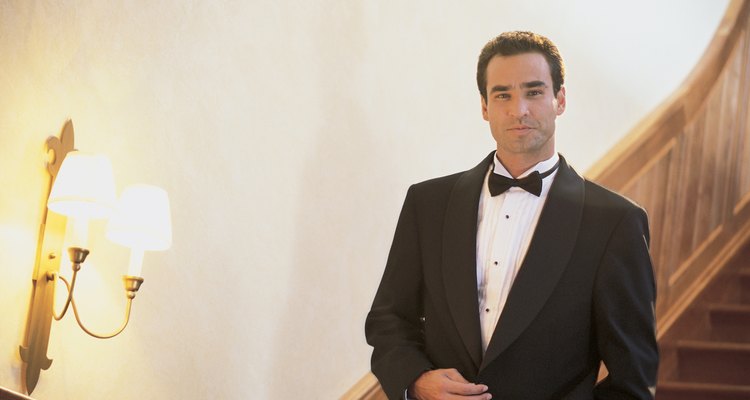 Comstock/Comstock/Getty Images
Black Tie and White Tie customs are based in Victorian tradition. White Tie refers to "full dress," as is reserved for participants in formal receptions or ceremonial processions. For example, the father of the bride or debutante, distinguished guests of honor and hosts of diplomatic officials wear White Tie. By contrast, Black Tie attire is standard "formal wear" and is appropriate at most formal occasions, especially for guests and as stags at a ball or wedding. Black and White attire events blend these two respective customs by mixing up the possibilities for formal dress.
White Tie dress consists of a three-piece suit or tuxedo complete with tailcoat, starched white shirt and cuff links, white vest and white silk tie. For older gentlemen, white ascots or cravats may be substituted. Shoes are patent leather. Outerwear includes a top hat, gloves and collared overcoat. Women wear gowns. In the past, white gowns were the rule, as were gloves and shawls accessorized by pearl, emerald, sapphire or diamond jewelry. Married women wore tiaras. Today, women wear gowns in a variety of styles, including off-the-shoulder, and color is not restricted.
Black Tie attire is a proper tuxedo with black bow-tie, especially for wedding grooms, hosts and guests of rank. For social events like charity dinners and art openings, men may sport dressy suits or dinner jackets, straight ties in dark colors and polished black leather shoes. Patterned ties should be avoided. Women wear evening or cocktail dresses, or elegant separates. Traditionally, women wore dark dresses with modest hems, necklines and sleeves in metallic or beaded accents. The rules are now open. Cocktails dresses can be short if dressy, and decollete is accepted. Jewelry is still formal but never brash or large.
Dernier Cri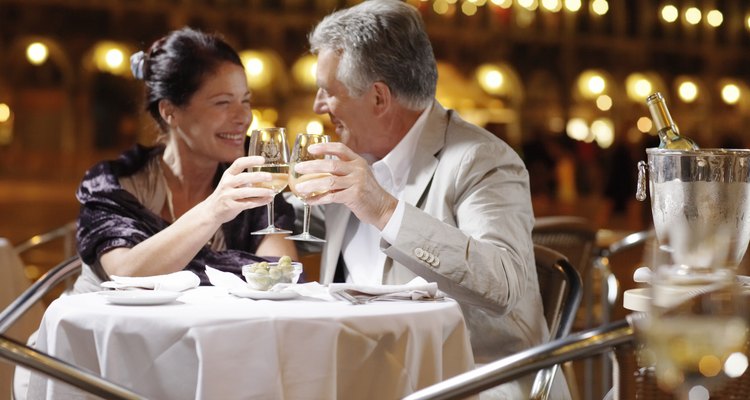 Jeremy Maude/Photodisc/Getty Images
The dernier cri in Black and White attire is contemporary style. For red carpet events, charity dinners and cocktail parties especially, formal dress is flexible. Men may wear dress shirts with no tie, provided that they have a jacket. Colored accessories add a dash of style and personality. Women wear dresses or gowns in modern designs. Unusual textures, styles and materials provide a refreshing twist. This was the case at singer P.Diddy's ball.
"Creative Tie" attire allows guests to be inventive, fashionable and playful. Add personal flair or casual accessories, such as boots, belts or ties. A Creative Black and White event is a fitting and fun choice for Hollywood parties, dressy dinners, private soirees and art shows. Red carpet guests are encouraged to exercise invention and to choose either new and bold or timelessly elegant designs. Avoid outre styles or ill-fitted attire.
A classic design with tasteful lines is always a winning choice. It is the most proper, polite and sober form of formal dress and avoids upstaging the host. However, a healthy infusion of personal style, daring or creativity can make you stand out as a guest. It allows you to personalize or showcase your look in a sea of black and white.
Writer Bio
Sarah York has been a freelance writer and editor for five years. Her work has appeared in such journals as The Danforth Review, Pisgah Review and The Renaissance of Teaching and Learning and in various online sources. She holds both a B.A. in English and M.A. in Creative Writing from the University of Toronto, as well as an M.A. in Literature from Western Carolina University.
Photo Credits
Allan Danahar/Digital Vision/Getty Images