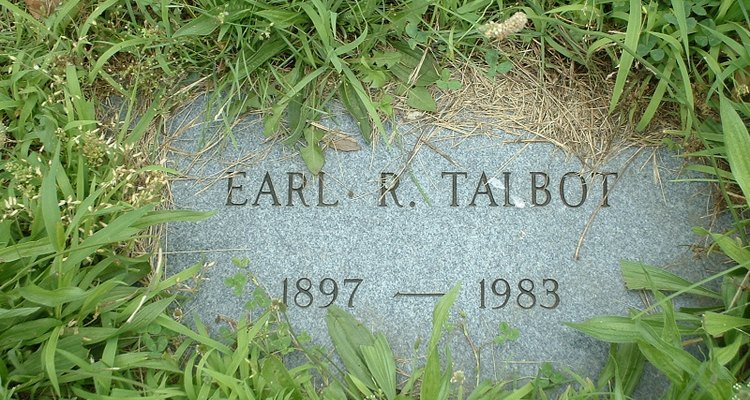 A. Johnson
A headstone is a final tribute to the deceased. But it is also a significant historical marker. When designing a headstone, it is important to think like a genealogist. The information placed on the headstone may be used by future generations to uncover information about that person's life. If you want the person to be remembered, make it easy for future generations to learn as much as possible by looking at the headstone.
Step 1
Include the person's complete name; first, middle and last. If it is a married woman who has taken her husband's name, consider including her complete name, with both the maiden and married name. This is not traditional, yet would be greatly appreciated by future generations.
Step 2
Add the person's nickname to the headstone. Below the full name, add the person's nickname (if there is one) in quotation marks or italic. If the person used "Bob" instead of his real name "Robert," include both names on the headstone.
Step 3
Give the full birth and death dates, including the month, day and year. That information is invaluable for family historians.
Step 4
Compose a line of text to capture the essence of the departed. This might be a favorite phrase they used, or a lifestyle they lived. For example, if the person was a trendsetter, the phrase might be "He did it his way."
Step 5
Tell who this person was. The traditional line might be "Beloved Wife, Mother, Daughter and Friend." If you are talented with words, get creative and go beyond the traditional and write something unique.
Step 6
Add artwork to the headstone. This will typically increase the price of the headstone. Traditional artwork might be a stone carving of an angel or flower, but consider an etching or carving of the departed's likeness or include a memorial photograph on the headstone.
Step 7
Discuss the size and dimension options of the headstone with the company that will be making the monument. Before making your final design, you will need to know what the dimensions will be. Discuss the engraving and photo options it offers within your budget.
Step 8
Arrange the words and artwork. Ideally this should be done in a computer graphics program, where you can easily arrange and rearrange the text and artwork to see how the headstone will look before having it made. This can also be done on graph paper.
Resources
Writer Bio
Ann Johnson has been a freelance writer since 1995. She previously served as the editor of a community magazine in Southern California and was also an active real-estate agent, specializing in commercial and residential properties. She has a Bachelor of Arts in communications from California State University, Fullerton.
Photo Credits