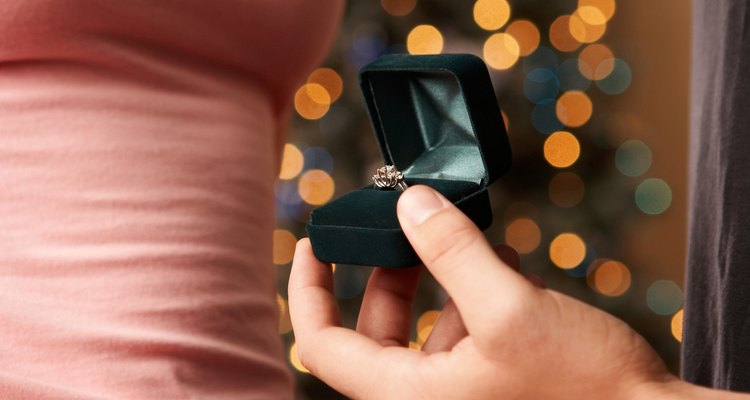 Jupiterimages/Photos.com/Getty Images
If you want to court your girlfriend instead of dating her, you might be unsure as to what the differences between the two are. Perhaps you've heard that courting always leads to marriage, or that it's just more serious than simple dating. That's because courting can mean different things to different people. Generally, what you need to keep in mind is that when you court your girlfriend, you are demonstrating serious interest in her and a commitment to your relationship. You should show her that you care for her well-being and demonstrate that you want to be in her life for a long time.
Step 1
Restrain from physical intimacy. If you want to court a girlfriend instead of casually dating her, you must prioritize your commitment to her over your desire to have sex with her. This is one of the main differences between courting and dating. When you date someone casually, you might be intimate with her and then end your relationship shortly thereafter, only to be intimate with many other women before getting married. Consider that casual hookups can lead to insecurities in your relationship, whereas courting can boost your self-esteem, according to Janet Ong Zimmerman, relationship coach and author of "How to Attract a Man Who Completely Loves and Accepts Me: The Empowering Three-Step Approach to Create True & Lasting Love."
Step 2
Take time to get to know each other. Embrace the time you spend together by slowly getting to know each other during your courtship. Instead of letting her know everything about you on the first date, tell her a little more each time you hang out. Focus on gradually revealing more about yourself, and asking her questions, as well. Instead of being in a rush to move your relationship to "the next level," enjoy each moment you have together, recognizing that you want to be in this relationship for a long time.
Step 3
Get to know your girlfriend's family and friends. You will likely want to develop a certain closeness with those who are important to your girlfriend and likewise, you will want her to develop a closeness with those who are important to you.
Step 4
Share thoughts and activities together. The more experiences you have together, the more you will learn about your girlfriend and the closer you will grow. In addition to sharing each other's interests, try new things together to create special "firsts" and make memories.
Step 5
Embrace vulnerability. Courtship promotes true love and connection, and to effectively do this, you must be honest with your girlfriend and expect honesty from her. Courtship takes more courage than dating because you must be open and vulnerable with the one you love, according to Zimmerman. Courtship will allow you to discover what truly matters to you in a dating relationship, since the point is to get to know someone on a deep level instead of having fun or "hooking up."
Step 6
Propose marriage. Once you have enjoyed a long-lasting, close relationship with the girl you are courting, it might be time for you to propose marriage to her. Since courting is all about what matters most in love -- like commitment, loyalty and honestly -- marriage is the natural step to take in a courting relationship. By asking her to spend the rest of her life with you, you will demonstrate how serious you are about your connection and show your girlfriend that she is the only one for you.
References
Resources
Warnings
Realize that even if you think your girlfriend is the one you want to marry, the point of spending time together before marriage is to make sure that she is the one for you. Do not rush into marrying her simply because you think you should. Be honest with yourself if you do not see the relationship working out, even if you have been courting for months.
Writer Bio
Kristen Moutria has a Bachelor of Arts in psychology from Evangel University. She is currently pursuing her Master of Arts in education from the University of Nebraska.
Photo Credits
Jupiterimages/Photos.com/Getty Images