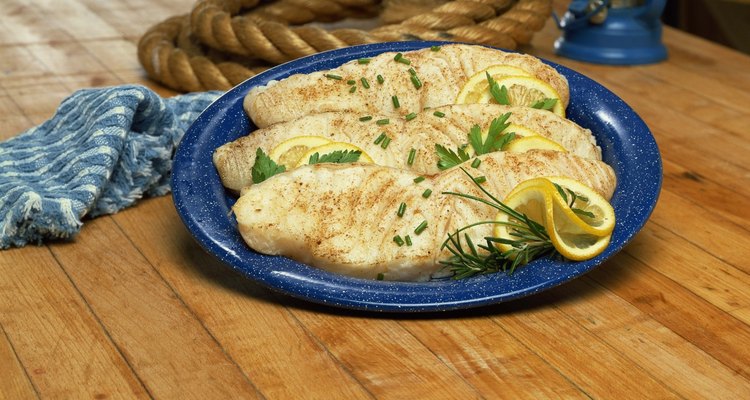 Jupiterimages/Stockbyte/Getty Images
For a tasty, basic fish entree, you can't go wrong with sole fillets prepared with butter and lemon. This flaky white fish is simple to prepare and can be pan-fried or baked. Served with seasoned rice and asparagus, it makes an elegant meal for company. Or add boiled potatoes and steamed vegetables for a hearty family dinner.
Pan-Fried Fillets
Step 1
Prepare a light coating for the thawed fillets, using flour, salt and pepper. Dip each fillet in the seasoned flour mixture to coat both sides of the fillet evenly, taking care not to overcoat the fish.
Step 2
Heat a thin layer of olive oil in a large, heavy skillet over medium heat. When the oil is hot, carefully place each coated sole fillet in the skillet. Saute the fish until one side is golden brown, then turn the fish and quickly saute the other side. Remove the sauteed fillets from the pan promptly, to prevent them from absorbing excessive oil. Place them on a plate covered with paper towel to allow the oil to drain; cover them to keep them warm. Drain all but one to two tablespoons of oil from the skillet and discard.
Step 3
Make a simple lemon-butter sauce in the skillet on the stove. Add a 1/2 cup of butter into the remaining oil, stirring constantly to keep the butter from burning. Gently stir in the juice of one large or two medium lemons and continue heating. Add a little fresh parsley into the sauce for color. Return the sauteed fillets to the skillet and cook in the sauce for no more than a minute on each side. Serve the fish with a little sauce drizzled over the top and garnish with thin slices of lemon and another dash of fresh parsley.
Baked Sole
Step 1
Place the fillets in a single layer in a foil-lined, shallow baking pan. Season them with salt, pepper, garlic powder and ground mustard.
Step 2
Melt a 1/2 cup of butter in a small saucepan over medium heat. Stir in the juice from one large or two medium lemons until heated. Drizzle the sauce over the seasoned fillets in the baking pan.
Step 3
Cover the fillets with aluminum foil and bake at 450 degrees Fahrenheit for eight to 10 minutes. During the last few minutes of baking, sprinkle the fillets with panko or seasoned bread crumbs. When the fillets have finished baking, place them on a warmed serving plate and sprinkle with fresh parsley for color. Serve with lemon slices or lemon wedges.
References
Tips
Created a fancier presentation by wrapping the sole fillets around steamed, buttered asparagus. For a heartier option, top flour-seasoned fillets with seasoned bread crumbs or panko and roll them up, using a toothpick to keep them rolled during cooking. Bake or pan-fry, drizzle with lemon sauce and add more bread crumbs to the top for a little crunch.
Warnings
Sole is a delicate fish, so do not overcook it, or it may dry out. Overcooking may also cause the fish to be overpowered by the flavors of the seasoning used.
Writer Bio
As a national security analyst for the U.S. government, Molly Thompson wrote extensively for classified USG publications. Thompson established and runs a strategic analysis company, is a professional genealogist and participates in numerous community organizations.Thompson holds degrees from Wellesley and Georgetown in psychology, political science and international relations.
Photo Credits
Jupiterimages/Stockbyte/Getty Images