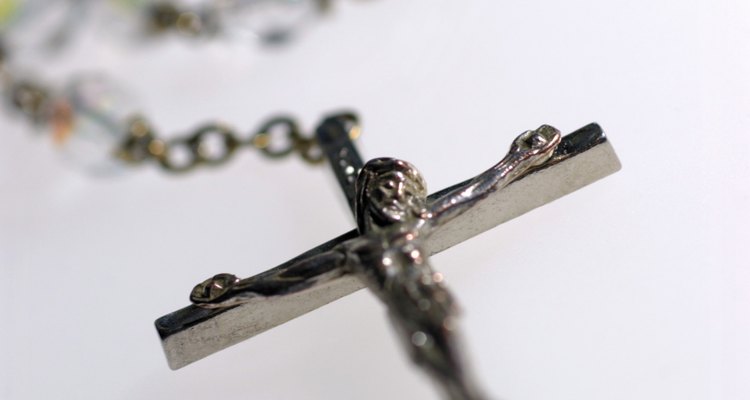 Thinkstock Images/Comstock/Getty Images
When a couple decides to baptize their baby, they are introducing their child to the church and taking a vow to raise the child in line with its teachings. Two important participants in this sacrament are the godparents of the child. Along with the parents, they agree to shoulder the responsibility of helping to guide the child spiritually. It is customary for the godparents to be recognized with a thoughtful gift from the parents on baptism day.
The Traditional
Silver has always been a popular baptism gift both for the baptized child and the godparent, hence the saying "born with a silver spoon in his mouth." A silver cross to be displayed in the godparent's home is a lovely choice. An engraved cup or mug featuring the name of the godparent, the child and the baptism date is another. If the godparent wears jewelry, consider earrings, a charm or cufflinks featuring a cross as a symbolic way for the godparent to keep the child close for years to come.
The Sentimental
You can never go wrong with a great picture frame. Commemorate this special day with an engraved frame featuring the child's name, the godparent's name and the date. Present the gift to the godparent at the ceremony, and follow up by taking several photos of the child with the proud sponsor. Have prints made of your favorite two or three photos and include them in a thank you note to the godparent a couple of weeks following the baptism. This is a beautiful way to mark such an important occasion.
The Practical
Part of the role of the godparent is to provide spiritual guidance and support to the child. Many godparents enjoy praying with their godchild from the time they are born. A practical yet thoughtful gift for a godparent with this in mind is a leather-bound Bible. It will stand the test of time and will always be a symbol of the bond between the child and his godparent. Emboss the name of the child and the date of the baptism on the cover for an extra special touch.
The Thought That Counts
Whatever gift you deem appropriate for your child's godparents, it truly is the thought that counts. You need not go overboard with your spending, but take care with your selection. Remember that the purpose of the gift is to mark a special occasion and the start of a new type of relationship between your child and this important person. A small but meaningful token gift is a perfect way to express your gratitude.
References
Writer Bio
A.J. Ryan is an elementary school teacher and graduate-level college instructor. She holds a professional teaching certification in the commonwealth of Massachusetts, as well as a Master of Education and a Bachelor of Science in business administration.
Photo Credits
Thinkstock Images/Comstock/Getty Images