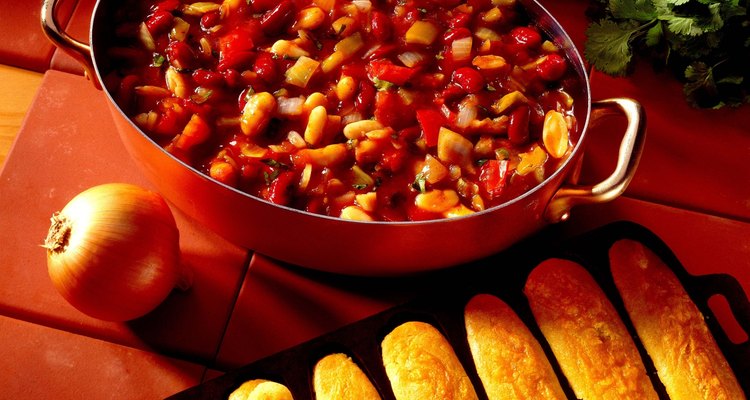 Jupiterimages/Comstock/Getty Images
Chili cook-offs are ideal venues to let people showcase their culinary skills and engage in friendly competition with friends, neighbors, and newcomers. While most chili cooks compete for little more than bragging rights, it's traditional to commemorate their efforts and skills with awards. You can reward winners with conventional ribbons and trophies or hand out more practical prizes related to cooking and chili.
Traditional Ribbons
The most economical awards for chili cook-off winners are ribbons. Traditionally, blue ribbons go to first place winners, followed by red for second place, white for third, yellow for fourth, and green for fifth place, but you can choose any colors you like. They are available in simple, single ribbon styles that pin to shirts or lapels, or you can choose fancier two-ribbon versions that feature a rosette at the top with a chef's hat image in the center.
Comstock/Comstock/Getty Images
Treasured Trophies
Handing out trophies for exemplary chili cooking is an ideal way to honor winners. There are several styles of trophies designed especially for chili competitions. One features a chubby chef holding a bowl of chili in one hand and giving the thumbs-up victory sign with his other hand. Less ornate styles have a bowl of chili at the top with a protruding spoon handle. Winners also appreciate trophies with a simple star at the apex with an image of a bowl of chili in the center or artistically curved awards with similar features. Trophies are generally available in silver or gold with plain black or marble bases. Plates can be engraved with names and placing information.
Photodisc/Photodisc/Getty Images
Culinary-related Prizes
Whimsical yet practical prizes are excellent ways to commemorate chili cook-off victories. Aprons, kitchen towels, pot holders, and oven mitts covered with brightly colored images of hot chili peppers are suitable and practical for both men and women. You can also award winners spoon rests, cutting boards and loofahs in the shape of hot peppers or with vivid pictures of peppers on them. Chef's hats and wooden cutting boards are also welcome prizes.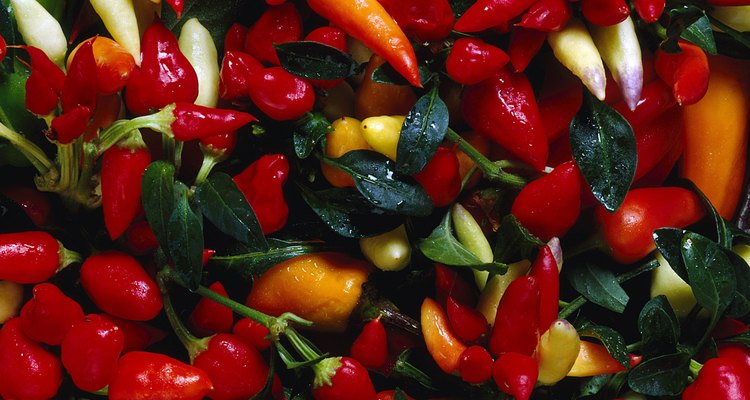 Brand X Pictures/Brand X Pictures/Getty Images
Food and Beverage Awards
Chili cooks are always looking for new ingredients to improve their recipes. Give cook-off winners jars of exotic canned or pickled peppers, hard-to-find spices and seasonings, artisan hot sauces, or unusual selections of dried beans. A good bowl of chili is always better with a refreshing beverage so imported beer, margarita ingredients and beverage serving glasses and mugs are good awards.
Pin Points
To commemorate everyone's participation in the cook-off, handing out chili cook-off lapel pins to all the cooks is a kind gesture. Even if they're not winners, many cooks like to wear a discreet badge to show they were contenders in the contest.
References
Writer Bio
Cassie Damewood has been a writer and editor since 1985. She writes about food and cooking for various websites, including My Great Recipes, and serves as the copy editor for "Food Loves Beer" magazine. Damewood completed a Bachelor of Arts in English with an emphasis in creative writing at Miami University.
Photo Credits
Jupiterimages/Comstock/Getty Images