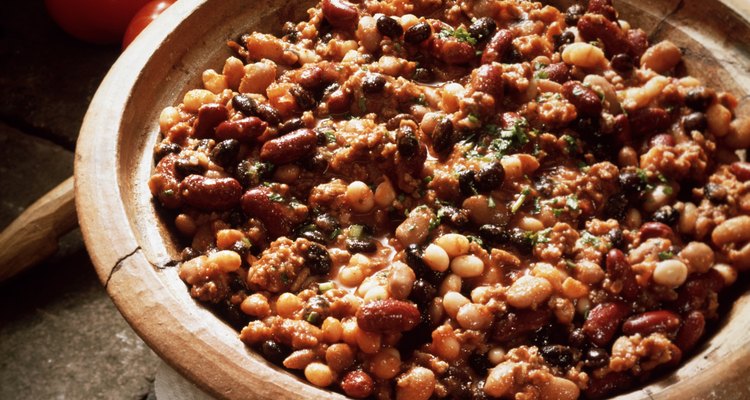 Eising/Photodisc/Getty Images
You've got your competitors fired up to cook, your venue is confirmed, and everyone has marked the big contest day on their calendars. Aside from praying for no rain, your chili cook-off seems set to launch. However, there is one last thing to plan -- side items for the cook-off. Chili for many aficionados isn't complete without an array of condiments and embellishments, so make sure your sides are sensational.
Cool and Soothing
Shredded cheese is a perfect complement to chili, whether it is spicy, mild, vegetarian, or full of carnivorous treats. Offer several varieties, including mild and sharp cheddar, Monterey Jack, and pepper jack, all of which have distinctive flavors that enhance without dominating or succumbing to strong spices typically used in chili recipes. Sour cream plays well against chili textures, as its gentle white swirls accentuate the texture and color of the chili. Lime wedges mellow the flavors of the spicier selections. Sliced, ripe avocado chunks are also a velvety mix-in.
Hot and Spicy
No matter how perfectly spiced the chili entries are, you can always count on at least one judge who needs a tad more heat to please his palate. A variety of chilies is an ideal way to add zing to the bowls. Include freshly chopped jalapeno, habanera, serrano, and poblano chills to cover the heat spectrum. Pickled jalapenos typically used to top nachos are a good addition, as well as chipotle adobe, canned smoked jalapenos packed in spicy adobo sauce. Don't forget freshly chopped onions, either yellow or white globes, and scallions, green onions, or spring onions. A bowl of freshly chopped cilantro is a must for a chili cook-off setting.
Crunchy Textures
Tortilla or corn chips add crunchy texture to chili. Have some crusty cornbread on hand, with a touch of sweetness in the batter, to bring out the complexity of the chili flavors. Oyster crackers are popular toppings, as well as saltines. Crisp, mile-high biscuits with fluffy interiors begging for butter are perfect alongside chili.
Beverage Bar
For the adults at the competition, serve ice-cold beer in bottles or invest in a keg to let guests enjoy beer from a tap. Bowls of rum punch with ample ice pair well with chili. Mix pitchers of margaritas and pass them around to add a festive touch to the gathering. Prepare vodka and lemonade coolers, pack them in pint Mason jars, and fill a galvanized, ice-filled tub with the self-serve treats. Lemonade, limeade, and sweet iced tea are refreshing non-alcoholic beverage choices.
Enjoy Yourself
Chili cook-offs are a great way to enjoy family and friends in the spirit of light-hearted competition. Planning your event well ahead of time will enhance your pleasure. Don't try to do everything yourself. Let others help a bit so everyone has a fantastic day.
Writer Bio
Cassie Damewood has been a writer and editor since 1985. She writes about food and cooking for various websites, including My Great Recipes, and serves as the copy editor for "Food Loves Beer" magazine. Damewood completed a Bachelor of Arts in English with an emphasis in creative writing at Miami University.
Photo Credits
Eising/Photodisc/Getty Images