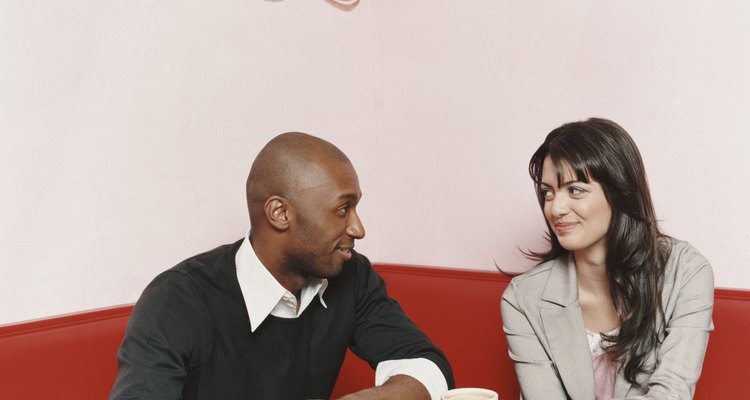 Digital Vision./Digital Vision/Getty Images
Staring and admiring a woman you are interested from afar is not going to get you anywhere. Even if you know the woman, if you don't take the initiative to ask her out, you may miss your chance with her. If you're not ready to ask her on an official date, or if you want to get to know her better, just ask her out for coffee. Asking casually and with confidence will almost guarantee you'll be conversing over lattes with that special lady in no time.
Step 1
Approach the woman you want to ask out in a confident manner. Self-confidence is an attractive trait and an important part of making a first impression, according to relationship expert and author Dr. Stuart Fisher, in the article, "Ways to Radiate Self-Confidence on your First Date," on eHarmony.com. Smile, be upbeat and make direct eye contact with her when you see her.
Step 2
Look for a receptive response. If she looks at you as you approach without turning away, or if she smiles slightly or looks at you with some curiosity, it is a good sign that she is open to speaking with you.
Step 3
Smile and make a respectful gesture to her. Bow your head slightly as you approach her to show deference for encroaching on her space and interrupting whatever she is doing.
Step 4
Introduce yourself and compliment her. You might tell her she caught your eye the minute she walked in, or that you've seen her here often and noticed she was reading a book from your favorite author. The compliment can be anything nice, but not too cheesy, and it gives you an excuse to approach her.
Step 5
Check her body language. If she smiles coyly, tilts her head towards you, turns her chair to face you, giggles or lowers her voice slightly, you can bet that she is responding positively and just may accept a coffee date with you.
Step 6
Be casual, but direct. Don't beat around the bush by asking if she likes coffee or if she has plans later. Just ask her if she wants to grab coffee. For example, you might say, "You want to grab coffee at that new coffee bar on Maple Street?" Asking in a casual manner alleviates the pressures that come with a formal date.
Step 7
Set specific, but flexible plans. If she says "yes," avoid making ambiguous coffee date plans, such as "sometime next week" or "later this week." Instead, suggest a specific time, date and location. If she can't make it at that time but says she would still love to get coffee with you, ask her what would time work best with her schedule and make set plans. Look forward to a successful coffee date.
References
Resources
Warnings
Don't embarrass yourself by approaching and asking the woman out if she has not shown any tell-tale body language signs that she is interested in you. If she avoids eye contact with you, doesn't smile, strikes up conversation with someone next to her, or gets on her phone, take it as a clue she is not interested.
Writer Bio
Based in Los Angeles, Zora Hughes has been writing travel, parenting, cooking and relationship articles since 2010. Her work includes writing city profiles for Groupon. She also writes screenplays and won the S. Randolph Playwriting Award in 2004. She holds a Bachelor of Arts in television writing/producing and a Master of Arts Management in entertainment media management, both from Columbia College.
Photo Credits
Digital Vision./Digital Vision/Getty Images