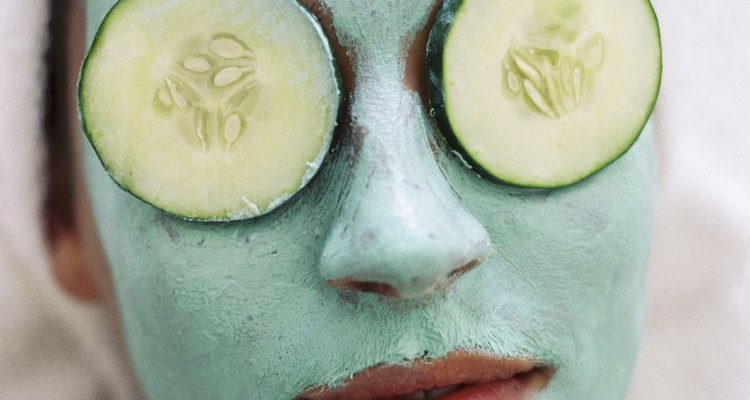 BananaStock/BananaStock/Getty Images
All skin types can suffer from dehydration, even the oiliest of skins. While dry skin lacks lipids or oils on the surface, dehydrated skin is lacking moisture on the upper layers of the skin. In addition to the proper daily skin-care regimen for your skin type, you may need to boost the moisture content of your skin internally and externally. Drinking water raises the water content in our cells -- including our skin cells -- thereby naturally hydrating the skin. But, at times, simply drinking water isn't enough, and you may opt for a hydrating mask to reverse the effects of dehydration.
Hydrate Your Oily Skin
Even though your skin may be oil rich, if it's lacking the proper moisture, it can be dehydrated as well. An easy mask to make at home uses banana, honey and lemon. Mix 1/4 cup mashed banana in a bowl with 1 teaspoon honey and a few drops of fresh lemon juice. Skip the lemon juice if you have any open cuts or sores on your face, or if you have sensitive skin. Apply the banana mask to your skin, and let it sit for 15 minutes. Rinse the mask off with warm water, and apply your regular moisturizer and SPF if you're going out in the sun. Bananas contain vitamins A, B, C and E, along with potassium, zinc, iron and manganese -- all of which promote skin health. Honey is a humectant which draws moisture into the skin and helps keep it there. Lemon juice is a natural antibacterial ingredient that will address any oily-skin acne issues.
Drink for Dry Skin
Greek yogurt is an ideal ingredient for a hydrating mask as yogurt is creamy, and it's a natural source of proteins, minerals, and vitamins that can instantly nourish dehydrated skin. Yogurt also contains lactic acid which helps to hydrate the skin. In a bowl, combine 2 tablespoons Greek yogurt (full fat) with 1 teaspoon honey. Add a squeeze of lemon juice if your skin can use some brightening. Allow the mask to sit on skin for 10 minutes before rinsing with lukewarm water. Apply moisturizer, and, if you're leaving the house, don't forget the sunscreen. Avoid the lemon if you have sensitive skin.
Caring for Combination Skin
Combination skin may need a mask made of milk and clay. Since combination skin is usually oily in the T-zone (forehead, nose and chin) with dryer patches on the cheeks, the ideal mask will hydrate where skin is dry and balance oil at the same time. Milk has moisturizing properties from lactic acid, and clay helps absorb excess oil. You can find clay appropriate for your skin-care mask in a health food store. Mix 1/4 cup whole milk with 1 tablespoon clay until you have a smooth paste. Spread the paste over your skin, avoiding your eye area. Let the mask sit for 10 to 15 minutes, but do not allow the mask to dry on your skin -- that will defeat the purpose of the mask, which is to hydrate your skin. Rinse the mask off and apply moisturizer. If you're going out for the day or into the sun, remember to use your sunscreen.
Oatmeal for Everyone
Oatmeal has soothing and moisturizing properties when used in skin care, and a mask of oatmeal, honey and yogurt hydrates not only normal skin types, but all skin types. Let 1/4 cup ground oatmeal steep in 3/4 cup boiling water until soft. Mix in 3 tablespoons plain yogurt, and then add 2 tablespoons honey. When the mask reaches a smooth-paste consistency, spread over face. Leave on for 10 to 15 minutes, then rinse. Apply moisturizer, and if you are venturing out of the house, use sunscreen.
References
Writer Bio
Tracey Brown is a licensed esthetican with advanced paramedical training, makeup artist and cosmetics industry trainer with 35 years of expertise. She has transitioned to a beauty editor who has been published in print and online. She has also written technical training materials for 19 years and been creating beauty content since 2000.
Photo Credits
BananaStock/BananaStock/Getty Images