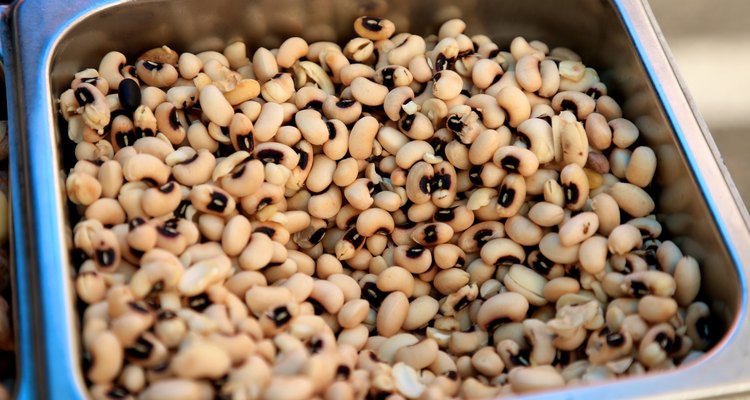 Clay_Harrison/iStock/Getty Images
Black-eyed peas with ham hocks is a Southern dish commonly known as "Hoppin John." Although the dish is served year round, it is traditionally served on New Year's day as Hoppin' John is believed to bring good fortune during the coming year. The hearty dish is inexpensive and filled with important nutrients, as black-eyed peas, like all legumes, provide amino acids, vitamins and protein. Black-eyed peas also contain plenty of healthy fiber that may help to prevent illnesses such as heart disease, diabetes and some forms of cancer
Rinse the black-eyed peas thoroughly under cool running water. Pick out broken or cracked peas, along with plant debris or pebbles.
Place the black-eyed peas in a large soup kettle or saucepan, then add water. Skim off and discard any black eyed peas or debris that float to the top of the water.
Add chopped onion, a bay leaf and ham hocks. Alternatively, use ham bones, cubed ham or bacon. For a hotter version, add a dried chili pepper or red pepper flakes. If desired, add 1/4 cup chopped celery.
Bring the water to a gentle simmer. Cook the mixture until the black-eyed peas are tender and the liquid has cooked down to about 2 cups -- about 1 1/2 to 2 hours.
Remove the ham hock from the simmering water. Use a fork to pull the meat from the bone, then return the ham to the kettle.
Add long-grain white rice. Cover the kettle, then turn the burner to the lowest setting. Cook the mixture for an additional 30 minutes. Don't remove the cover while the rice is cooking.
Remove the kettle from the burner, without removing the cover. Allow the mixture to sit for 10 minutes.
Uncover the kettle, then add pepper and salt to taste. Fluff the rice gently with a fork, then transfer the mixture to a serving bowl.
References
Writer Bio
M.H. Dyer began her writing career as a staff writer at a community newspaper and is now a full-time commercial writer. She writes about a variety of topics, with a focus on sustainable, pesticide- and herbicide-free gardening. She is an Oregon State University Master Gardener and Master Naturalist and holds a Master of Fine Arts in creative nonfiction writing.
Photo Credits
Clay_Harrison/iStock/Getty Images