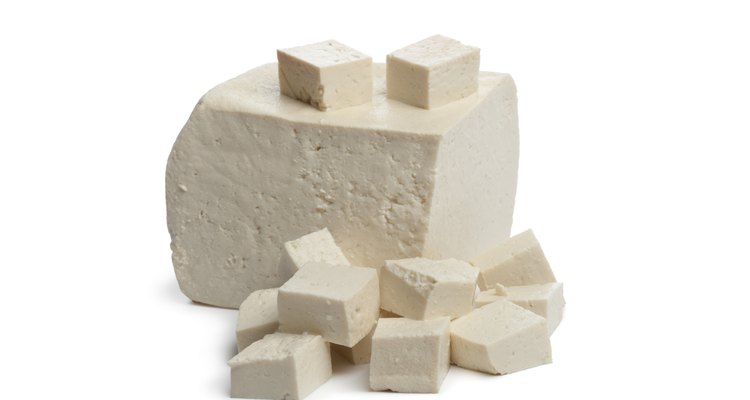 PicturePartners/iStock/Getty Images
Although it is a grain protein, gluten can show up in various protein shakes as an additive because of cross contamination. If you need to avoid gluten due to an intolerance or celiac disease, an autoimmune disorder that causes the body to attack the intestines when gluten is eaten, you may be better off making your own protein shakes using fresh, natural ingredients to prevent any exposure. Talk to your doctor or dietitian to help you design healthy protein shakes.
Go Greek
Plain nonfat Greek yogurt is a not only a good source of protein, with 17 grams in a 6-ounce container, but is also naturally gluten-free and makes a good base for a protein drink. Blend one container with a small banana, 1 cup of fresh strawberries and some ice for a 220-calorie, 17-gram protein drink. To boost the protein a bit, add 1 tablespoon of nonfat dried milk powder to your drink, which adds an extra 17 calories and 2 grams of protein.
Soy Does Good
If you're trying to stay away from milk products, soy also makes a good gluten-free high-protein option. Blend 1 cup of plain soy milk with one-half cup of dry rolled oats, 1 tablespoon of almond butter and a small banana for 330 calories and 14 grams.
Tofu also makes a good gluten-free high-protein base for your drink. Blend 1 cup of soft tofu with three-quarter cup of blueberries and 2 cups of chopped kale with ice for 260 calories and 18 grams of protein.
Nuts and Seeds Too
You can also use nut or seed milks, as well as the nuts and seeds themselves, to make delicious, gluten-free high-protein shakes. Start with 1 cup of hemp milk and blend in 1 1/2 tablespoons of hempseeds, three-quarter cup of fresh pineapple and ice for 220 calories and 11 grams of protein.
Or make a thicker drink with one-half cup of almond milk, 1 ounce of almonds, one-half cup of soft tofu and 1 cup of raspberries blended with ice for 340 calories and 13 grams of protein.
Ready-Made and Gluten-Free
If you can't make your protein shake from scratch, you can find gluten-free ready-made options at your local health food store or even the supermarket. Carefully read the food labels to make sure they are gluten-free. Brands to look into include Ensure, Boost, Nutra-Shake and Premiere Protein Shake. Some flavors of Carnation Breakfast Essentials are also gluten-free and make a good, readily-available protein shake.
References
Writer Bio
Jill Corleone is a registered dietitian and health coach who has been writing and sharing her love of food, nutrition and health with anyone who'll listen for almost 20 years. Her work has been featured on the Huffington Post, Diabetes Self-Management and Working Mother.
Photo Credits
PicturePartners/iStock/Getty Images