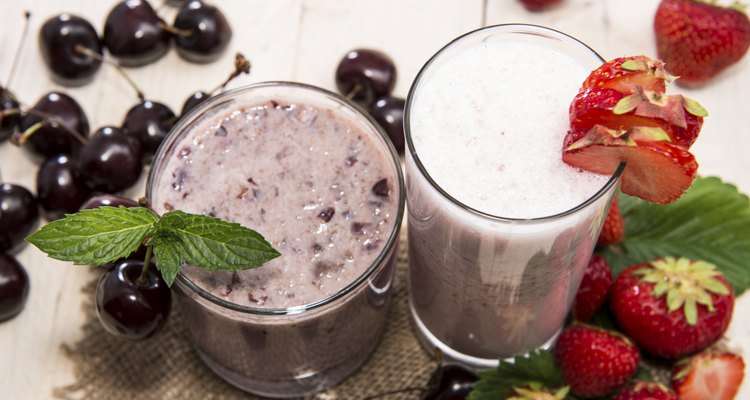 HandmadePictures/iStock/Getty Images
Berries and cherries, papayas and mangos, all fruits can come together in a juicy tango when blended in a refreshing fruit shake. Icy fruit blends, creamy smoothies and high-energy concoctions are yours to create at the push of a blender button.
Fresh and Thick
To make a creamy shake with just fresh fruits, start by chopping enough of your favorite fruit combinations to fill twice as much as your drink glass, as the fruits reduce in volume when blended. Berries in particular create a more watery drink; add bananas as a thickener. Conversely, use pineapple or orange juice as both a thinner and a sweetener.
Crush a handful of ice cubes in your blender, add the chopped fruit and blend on high. Add fruit juice and sweetener to taste. This is the time for extra flavoring touches such as almond or vanilla flavoring. Garnish with a bit of fresh fruit and a sprig of mint.
Latin Style
Wherever you go in Latin American countries, including Cuba and Costa Rica, the traditional batido turns up on the drink menu, whether inside a restaurant or at a shack on the side of the road. Derived from the Spanish verb "to beat," this fruity melange is made with either with water or milk. To make the more common -- and less fattening -- water version, you need only start with equal parts of chopped fresh fruit and crushed ice. Zap in the blender and add distilled water until you get the consistency you desire. Or forgo the ice and just make a blend with fruit and either cold milk or water.
Easy Freezy
Combine your favorite frozen fruits, sweetened or unsweetened, such as berries, cherries and peaches, in your blender and pulse a few times to break the frozen fruit into smaller pieces. Add a couple tablespoons of concentrated fruit juice as a sweetener. Pour in a few glugs of orange, pineapple, mango or tropical fruit juice and blend. Add juice until you reach a drinkable consistency, or leave it thick and eat it with a spoon.
Smooth and Creamy
Smoothies are the fruity version of the classic American milkshake. Go tropical with mango, pineapple and papaya or raid the supermarket for a variety of berries. Simply put your chosen fruits in the blender, give it a puree and then add your choice of ice cream. Blend and dilute with milk, coconut milk or juice to reach your desired consistency. For a lighter shake, substitute frozen yogurt or sorbet for ice cream, adding any number of fresh fruits to make exotic shakes.
Healthy Shakes
Make a healthy breakfast shake with plain yogurt, ripe bananas and other naturally sweet fruits such as peaches. Add some antioxidant berries, a teaspoon or so of wheat germ and protein powder to give your day a jump start. Throw everything in the blender with a handful of crushed ice and puree.
Toppings and Tricks
Top a thick spoonable shake with chopped nuts and fruit. A chunk of fruit on the rim of the glass adds a festive touch.

Turn your tropical shake into an adult beverage with a shot of rum.

Replace crushed ice with frozen fruit for an extra-hearty shake.

Sneak some hidden vegetables into your smoothie for the picky eater in your family. Pureed carrots, beets and yellow squash are the most easily disguised -- anything green is a dead giveaway -- and the flavor is hidden by the sweetness of the shake.

If you don't have a blender, mash up some chopped fruit in a cocktail shaker, add liquid and place the shaker in the freezer for 20 minutes. Take the shaker out, stir the contents, add a little more liquid, shake like crazy and pour your drink.
References
Writer Bio
Raechel Donahue is an author, journalist and former features editor of the Brentwood News. Her specialties include travel, food and film. She performs a weekend show on BossBossRadio.com, runs a travel website and has written, produced and directed several PBS documentaries. A native Californian, Donahue currently lives in France.
Photo Credits
HandmadePictures/iStock/Getty Images