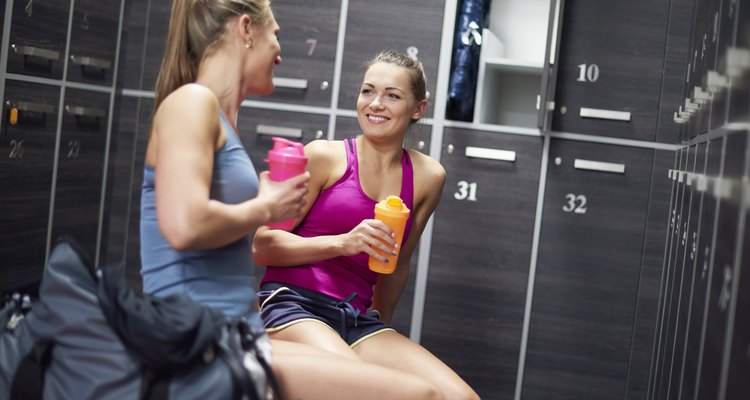 gpointstudio/iStock/Getty Images
Curves is a workout facility specifically for women that sets them up with a 30-minute workout using resistance machines. Curves offers members the ability to purchase nutritional supplements and products designed to complement the workout plan and support weight loss and health goals. Included in these products are two protein supplement drinks in vanilla and chocolate flavors.
Curves Vanilla Shake
Curves Vanilla protein supplement contains vitamins A, C, D, E, B1, B2, B6, folic acid, B12 and biotin. Also included in the drink are pantothenic acid, calcium, iron, phosphorus, iodine, zinc, selenium, copper, chromium, molybdenum, sodium, potassium, hydroxyl citrate, soy isoflavones and manganese. Whey and soy proteins are used for the protein requirement. Fructose, cellulose gum, oat fiber, corn bran, cellulose fiber and hydrolyzed oat flour are added as well. The drink is sweetened with acesulfame potassium and sucralose.
Curves Chocolate Shake
The Curves Chocolate protein supplement drink includes the same vitamins and minerals as the vanilla shake. In order to flavor the protein drink, Dutch process cocoa powder is used for the chocolate flavor. All other ingredients of the chocolate shake are the same as the vanilla shake.
Nutritional Information
Both the Curves Vanilla and Chocolate protein shakes have 100 calories per serving. When 8 oz. of skim milk is added with 2 scoops of powder, the calories are increased to 200 per serving. Both shakes have 15 calories from fat, or 20 when mixed properly with milk. The protein shakes are low in fat with only 1.5 g per serving. It contains 1 g of saturated fat, 30mg of cholesterol and 8 g of carbohydrates. Both shakes have 1 g of fiber, 5 g of sugar and 15 g of protein.
References
Elizabeth Fields, Curves International Customer Service Specialist, Online Support
Writer Bio
Amber Canaan has a medical background as a registered nurse in labor and delivery and pediatric oncology. She began her writing career in 2005, focusing on pregnancy and health. Canaan has a degree in science from the Cabarrus College of Health Sciences and owns her own wellness consulting business.
Photo Credits
gpointstudio/iStock/Getty Images