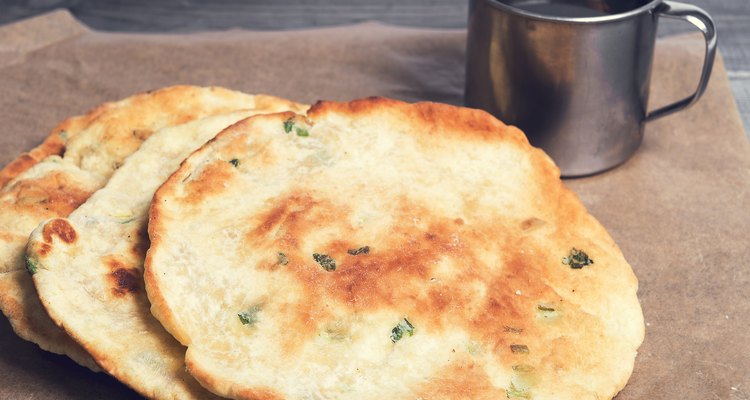 FSerega/iStock/Getty Images
Piaya, or piyaya, is a flat, unleavened bread from the Philippines. The piaya is filled with mozcovado, or raw, sugar. This filling is understandable, since piaya originates from the sugar capital of the Philippines, the Negros provinces. The flaky flat bread is topped with sesame seeds. Filipinos sell piaya in open-air markets and local grocery stores. You can purchase boxes of piaya to be shipped to your home from the Philippines, but there is no comparison to warm, fresh piaya. Try making it at home for a special treat that your family will love.
Combine the flour, butter and water together in a medium-sized mixing bowl. Beat the mixture with a hand mixer on medium speed until a smooth dough forms.
Divide the dough into 20 equal portions, rolling each portion into a ball. To ensure that the portions are equally sized, you can measure the dough to be 2 tbsp. for each portion.
Poke a hole in the center of a ball of dough, only going about halfway deep. Place 1 tsp. of raw sugar in the hole. Reshape the ball by rolling and squeezing. Continue with each ball until each is filled with sugar.
Roll each ball gently into a circle, until the dough is about ½-inch thick. Sprinkle each circle with about 1 tsp. sesame seeds and gently roll the sesame seed side of the dough so that they stick in the dough.
Preheat a large skillet over low heat. Spray with nonstick spray.
Cook the piaya in batches, flipping frequently, until they are golden brown. Serve hot.
References
"Philippine Markets"; Karla P. Delgado; 2004
"Discover the Philippines Cookbook"; Albert Mortiz; 2006
Writer Bio
Sarah Bourque has been a freelance writer since 2006 and is based in the Pacific Northwest. She writes and edits for the local publisher, Pacific Crest Imprint and has written for several online content sites. Her work recently appeared in "The Goldendale Tourism and Economic Development Magazine" and "Sail the Gorge!" magazine. She attended Portland Community College where she studied psychology.
Photo Credits
FSerega/iStock/Getty Images