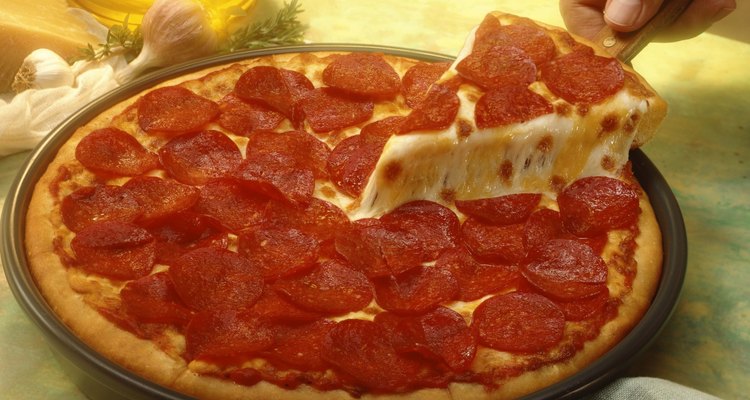 Jupiterimages/Comstock/Getty Images
Make a large batch of pizza dough to save time and money when preparing the classic family favorite. Pizza dough freezes well if you wrap it properly. Prepare enough dough to last you for a few months for pizza anytime.
Dough Balls
Step 1
Prepare the pizza dough as you normally would and let it rise one time.
Step 2
Punch the dough down and separate it into round balls. Each ball should be enough dough to make whatever size pizza you usually make. A standard recipe that calls for 4 cups of flour will most likely make enough dough for four 8-inch pizzas or two 16-inch pizzas.
Step 3
Wrap each ball of dough tightly in plastic wrap. Use enough plastic wrap so that the dough doesn't push its way out of the wrap. Aim for wrapping the dough with at least two layers of wrap.
Step 4
Place each wrapped ball of dough in a zip-top bag and squeeze out the air, then seal. Label the bags with the date and "Pizza Dough" so that you can find and identify them later.
Step 5
Remove desired portions of dough balls the day before you plan to make pizza, so they can thaw.
Topping-Ready Disks
Step 1
Prepare the dough according to your recipe and let it rise one time.
Step 2
Punch the dough down and divide into equally sized portions. The number of portions depends on the size of the pizza and how many you wish to make.
Step 3
Shape the dough into rounds and roll out until each round is the size and thickness you want the crust to be. Place each round on its own baking sheet.
Step 4
Freeze the rolled-out and shaped dough on the baking sheets until firm, then take off of the sheet and wrap securely in plastic wrap and label with the date.
References
Tips
Rolling out the dough before freezing will save time later, as you can top the dough while still frozen and then bake the pizza. Add a few minutes to the baking time so that the dough thaws and cooks through.
Turn this kid-friendly favorite into a complete meal by serving it with a side salad. Add a selection of veggies such as cucumber, diced tomato and chopped carrots. Top with a creamy dressing.
Writer Bio
Based in Pennsylvania, Emily Weller has been writing professionally since 2007, when she began writing theater reviews Off-Off Broadway productions. Since then, she has written for TheNest, ModernMom and Rhode Island Home and Design magazine, among others. Weller attended CUNY/Brooklyn college and Temple University.
Photo Credits
Jupiterimages/Comstock/Getty Images