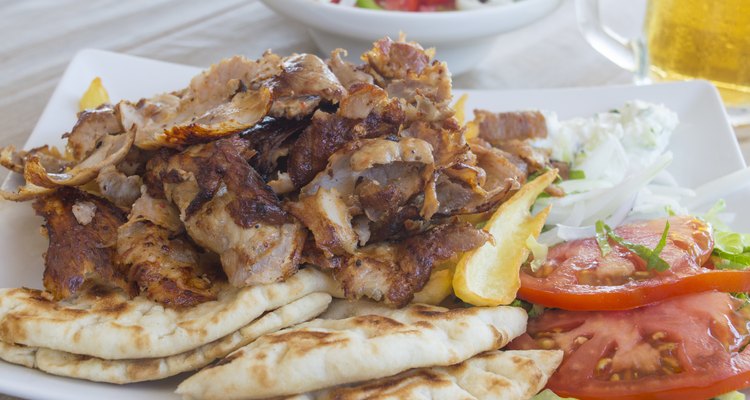 Creative-Family/iStock/Getty Images
Nothing sums up a Greek holiday like a day on the beach followed by souvlaki from a street cafe. You can easily re-create the classic souvlaki of tender marinated cubes of lamb and serve them in pillows of flat bread with sliced tomatoes, pickles and tzatziki. The distinctive flavor comes from oregano, lemon juice and the slight charring of the lamb. To achieve this you will use a very hot oven and cook the lamb quickly to maintain its tenderness and moistness.
Using the chef's knife and the chopping board, cut the lamb into strips and cubes approximately 1 1/2 inches wide. Trim off any excess fat.
In the large bowl mix the oregano, lemon juice, olive oil, 2 tsp. of salt and ½ tsp. of freshly ground pepper. Add the lamb, mix well with your fingers, cover with the tea towel and leave to marinate, at room temperature, for at least one hour.
Using the oven gloves, place the sheet pan in the preheated oven.
Using your fingers, thread the lamb onto the metal skewers. You will need to double over the thinner strips. Share the lamb evenly between the skewers.
Using the oven gloves, remove the hot sheet pan from the oven. Place the skewers in one layer on the sheet pan with space between them. You may need to cook the souvlaki in two batches. Return the pan to the hot oven.
Bake the souvlaki in the oven for 12 minutes for medium-rare lamb. Using the oven gloves, remove the skewers from the oven, place on the warmed plate, cover with the cloth and leave to rest. Repeat steps 5 and 6 until all the souvlaki is cooked. You should rest the lamb for at least five minutes. According to French chef Raymond Blanc, this is essential to allow the juices to redistribute, the muscles to relax and the lamb to be more tender.
After all the lamb has been cooked and rested, serve on the warmed plate.
References
"Kitchen Secrets"; Raymond Blanc; 2011
"Barefoot Contessa Back to Basics"; Ina Garten; 2008
Tips
Make sure your oven is clean or it will smoke at 500 degrees as the residue burns off.
Ina Garten, of the Food Network's "Barefoot Contessa," advises that you salt your lamb as soon as you get it home from the store then rewrap and place in the refrigerator until use.
Writer Bio
Kata Logan graduated as a veterinarian from Glasgow University in 1987. She has worked in general practice since then and written pet-care articles for her local Oxfordshire press since 1993. Raised in the hotel business, Logan also has more than 40 years of catering experience, providing a great resource for her articles on food, diet and health.
Photo Credits
Creative-Family/iStock/Getty Images