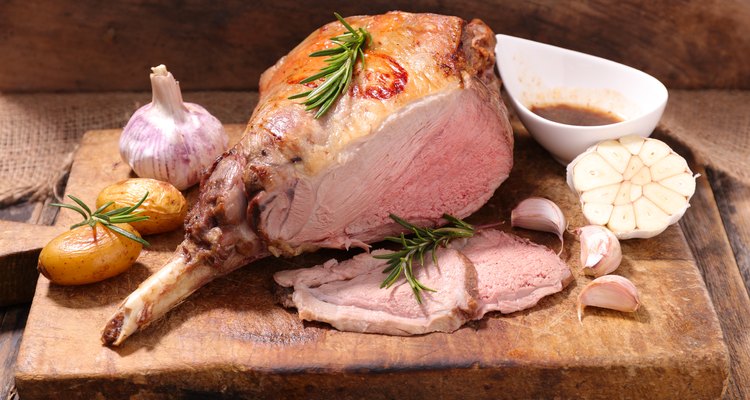 margouillatphotos/iStock/GettyImages
Lamb is a richly flavored meat suitable for a Sunday dinner with your family or a special occasion. Lamb cooked wrong can turn out dry and fibrous, but slow-cooking it in broth or wine tenderizes it and makes it more flavorful. Leg, shoulder, shank, butt and neck are all good candidates for the slow cooker. Your whole family will enjoy the rich flavor and juicy texture of this premium meat. Note that lamb chops, the priciest and quickest cooking cut, should be cooked more like beef steak instead.
Flavor Pairing Suggestions
You can't slow-cook lamb all by itself. You need a broth or stock to keep the lamb moist as it cooks. Lamb goes well with a number of flavors, so choose an option that your family will enjoy. Beef stock, red or white wine, or vegetable stock will keep the lamb moist as it slow-cooks; it will tenderize it. You can also add vegetables to the slow cooker to cook at the same time and absorb some of the rich flavor of the meat drippings. Potatoes, carrots, celery, or pearl onions are a few options. Add the herbs and seasonings you enjoy, or use a dry seasoning mix.
Slow Cooking The Lamb
You don't need to have any culinary training or special knowledge to slow cook lamb. The time needed to cook the lamb depends on the amount of lamb you are using as well as the cut. A general rule of thumb is that the lamb will need to cook on low for two and a half to three hours for each pound of lamb. The typical cut of lamb weighs 2 to 3 lbs., so plan to cook your lamb for approximately eight hours. The lamb is done when it is tender enough to easily pierce with a fork.
Serving Suggestions
Serve your lamb as-is with vegetables and a tossed salad with creamy dressing, or add a side of rice or couscous. You can also make a savory gravy from the drippings left in the slow cooker, even if you used wine. The wine will combine with the drippings to create a rich gravy. Boil the drippings in a saucepan and whisk in cornstarch or flour, then simmer the gravy until it is thick enough to serve. Pour the gravy over the lamb as well as potatoes or rice, if you are serving them.
Storing
Lamb stores and freezes well. Lamb stew or saucy lamb dishes in particular taste even better the next day, so don't discard your leftovers. Pack them to take to work as a healthy lunch. Refrigerate lamb for up to three days or freeze it for up to three months. Frozen lamb thaws well, so don't be afraid to purchase a large lamb roast if you find one on sale. You can cook a large batch of lamb or lamb stew and thaw it whenever you need to make a fast, healthy dinner for your family.
References
Writer Bio
Natalie Smith is a technical writing professor specializing in medical writing localization and food writing. Her work has been published in technical journals, on several prominent cooking and nutrition websites, as well as books and conference proceedings. Smith has won two international research awards for her scholarship in intercultural medical writing, and holds a PhD in technical communication and rhetoric.