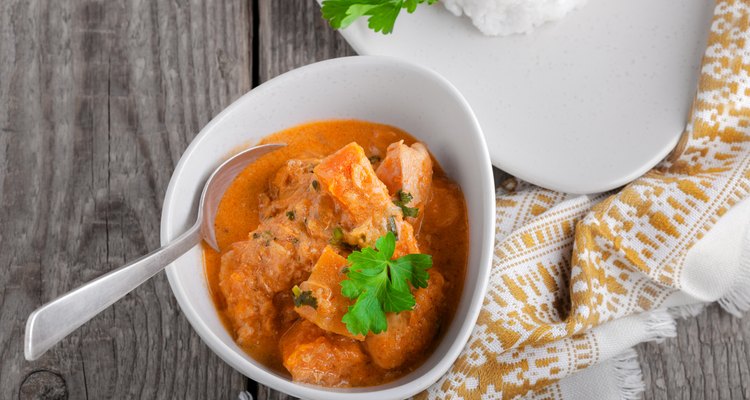 supercat67/iStock/Getty Images
Curry imparts a rich, exotic flavor to chicken and other foods. Originally from India, curry now finds its way into a number of ethnic cuisines, including Thai and Japanese. Cooking chicken curry in the microwave is quick, nutritious and preserves the delicate juices of the chicken, and leaves it tender and flavorful. If you want to add vegetables to this curry recipe, microwave them first to soften before adding the chicken. Have plenty of hot, steamed rice to serve with this savory dish.
Melt the butter in a large microwave-safe bowl or casserole dish with a lid on high for about 30 seconds. Add the chicken to the bowl and stir to coat. Cover with the lid and microwave on medium for eight minutes.
Whisk together the curry powder, half-and-half, basil, cilantro and soy sauce in a small bowl until blended.
Pour over cooked chicken, cover and microwave on medium for an additional three to four minutes. Season with salt and pepper to taste.
Serve over steamed rice. Garnish with chopped parsley.
References
Writer Bio
When not working in her family-owned food and bar business, Viola Horne can almost always be found with a cookbook in one hand and a whisk in the other. Horne never tires of entertaining family and friends with both comfort food and unusual delicacies such as garlic cheese smashed potatoes and banana bacon pancakes.
Photo Credits
supercat67/iStock/Getty Images