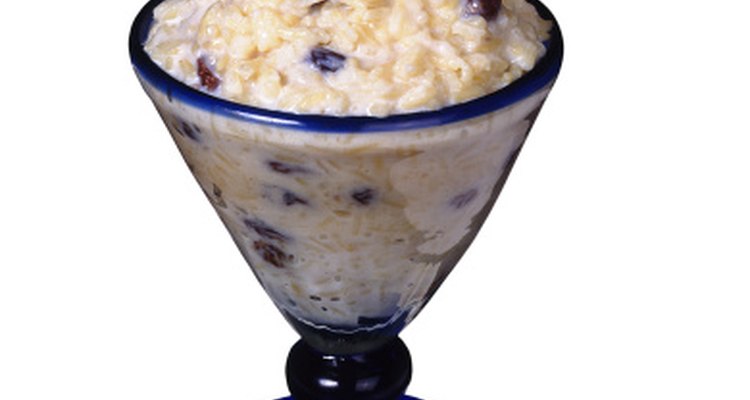 Brand X Pictures/Brand X Pictures/Getty Images
Rice pudding is eaten all around the world as a dessert, side dish and entree. It appears in many variations, using many different types of rice and many different ingredients. In the U.S., however, it is primarily eaten as a dessert based on instant white rice and water or milk. Rice pudding can be made easily and quickly on the stove top or in the microwave using instant vanilla pudding mix. One advantage to rice pudding is that it's relatively versatile, so it supports a number of healthy additions that give the dessert some nutritional value.
Beat an egg. Pour it into a bowl with 2 cups of instant rice, 2 cups of milk or water and 1 package of instant vanilla pudding. Mix the ingredients together vigorously.
Add in other ingredients to taste or according to the recipe you're following. Use 2 tsp of ground cinnamon, 1/4 tsp nutmeg and 1 cup of raisins for a fairly traditional vanilla rice pudding dish. Consider adding 1/2 cup of slivered or chopped nuts, such as almonds, walnuts or pecans, to give your rice pudding more texture and nutritional value. Stir everything together.
Pour the rice pudding into a medium saucepan and stir it continuously over medium heat until it comes to a boil. Remove the rice pudding from the heat and let it stand for 2 minutes, stirring it a few times.
Microwave the rice pudding on high for about 8 minutes in a microwave-safe bowl if you prefer this to preparing it on the stove. Check that the rice is soft and the liquid has evaporated, and microwave another minute or two as needed. Stir the rice pudding well and let it cool for a few minutes.
References
Tips
Serve the vanilla rice pudding in individual dishes and garnish with a few sprinkles of ground cinnamon, a spoonful of whipped cream or a handful of fresh berries.
You can substitute other dried fruit for raisins, if you like, or use them in addition.
Try this vanilla rice pudding made with instant brown rice instead of white rice. The whole grain makes the dish more nutritious.
Writer Bio
Eric Mohrman is a food and drink, travel, and lifestyle writer living in Orlando, Florida. He has professional experience to complement his love of cooking and eating, having worked for 10 years both front- and back-of-house in casual and fine dining restaurants. He has written print and web pieces on food and drink topics for Visit Florida, Orlando Style Magazine, CrushBrew Magazine, Agent Magazine, Dollar Stretcher Magazine, The 863 Magazine and other publications.
Photo Credits
Brand X Pictures/Brand X Pictures/Getty Images