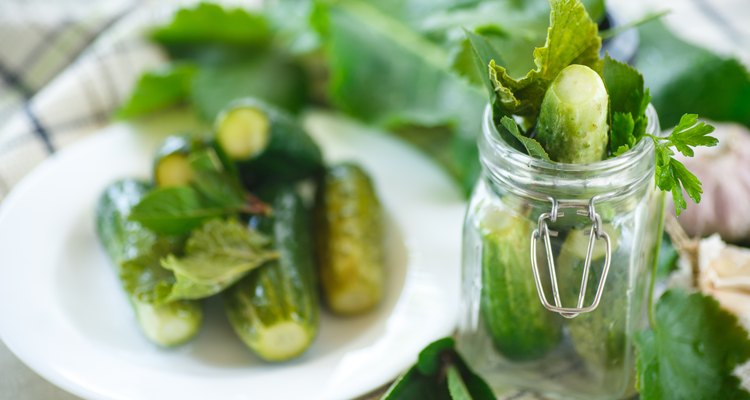 peredniankina/iStock/Getty Images
Fried dill pickle spears or slices are a traditional snack and sandwich accompaniment in the southern United States. They're a flavorful, crunchy side or topping for sandwiches and hamburgers. You can easily prepare a healthier version of fried pickles by baking pickles in the oven, without battering and deep frying them. Deep frying requires at least 2 inches of oil, and as MayoClinic.com points out, every tablespoon's worth on the food adds more than 100 calories. Baking pickles eliminates the added fat and calories, without making the preparation process any more complicated.
Preheat the oven to 450 degrees F.
Drain the liquid from a 32-oz. jar of dill pickle slices. Remove the pickles and pat them dry with paper towels.
Mix 1/2 cup of yellow cornmeal, 1/3 cup of grated Parmesan cheese, 1 tsp, of paprika and 1/4 tsp. of ground red pepper in a bowl. Add or remove ingredients to taste, or according to any recipe you're using.
Spray a baking tray lightly with a healthy cooking spray. Dab each pickle slice into the seasoning mixture, coating them thoroughly on both sides. Place the slices onto the tray in a single layer.
Bake the coated pickle slices in the oven for six minutes. Flip them over and bake them for another 6 minutes. Watch for the coating to turn golden-brown, as the exact cooking time varies among different ovens.
Let the pickles cool for 5 minutes minutes before serving or eating.
References
Writer Bio
Eric Mohrman is a food and drink, travel, and lifestyle writer living in Orlando, Florida. He has professional experience to complement his love of cooking and eating, having worked for 10 years both front- and back-of-house in casual and fine dining restaurants. He has written print and web pieces on food and drink topics for Visit Florida, Orlando Style Magazine, CrushBrew Magazine, Agent Magazine, Dollar Stretcher Magazine, The 863 Magazine and other publications.
Photo Credits
peredniankina/iStock/Getty Images