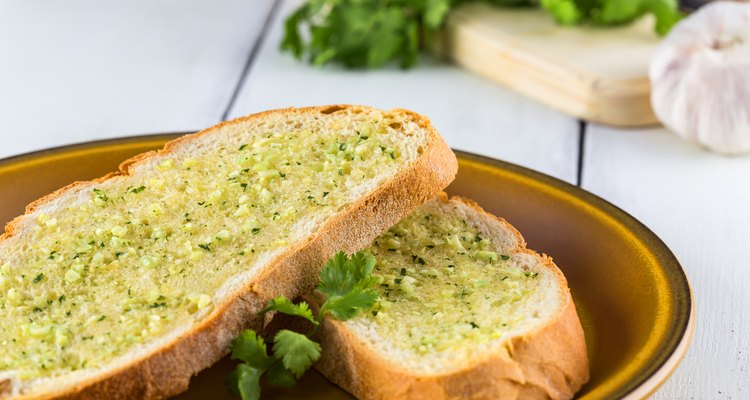 Hakat/iStock/Getty Images
Buttery bread seasoned with garlic and toasted in the oven is a delicious option for nearly any meal. Garlic bread is commonly served with pasta, but it also complements meat and potatoes, dinner salads or soups. A closely supervised baking period is key to avoid overcooking, which results in a tough crust that is too crunchy. Homemade garlic bread often uses a loaf of Italian bread as the base, but any crusty bread works.
Cut the loaf of crusty bread in half horizontally so you have 2 long, thin halves. Use a serrated knife with a sawing action to cut through the bread without squashing it.
Peel 3 cloves of garlic. Smash the cloves with the side of a knife. Chop the garlic if you still have large chunks.
Stir together ½ cup softened butter, the mashed garlic, 1 tbsp. fresh parsley, ¼ tsp. dried rosemary, ¼ tsp. dried thyme and 2 tbsp. grated Parmesan cheese. Spread the butter mixture over both cut sides of the bread. Place the bread halves with the buttered side facing up on a baking sheet.
Bake the garlic bread at 325 degrees Fahrenheit for eight to 10 minutes. Check the bread after eight minutes to look for melted butter and slightly browned edges on the bread. Bake the bread for longer if it isn't as brown as you want. Check the bread every two minutes so it doesn't overcook.
Allow the garlic bread to cool for one to two minutes before cutting it into slices to serve.
References
Tips
If you don't want the cut surface of the bread to get crisp and browned, cut the bread into vertical slices about 1 inch wide. Leave the bottom crust intact by stopping each cut about ¼ inch from the bottom. The bread remains in the loaf shape but has slices in it. Spread the butter mixture between the slices and wrap the loaf with aluminum foil. Bake the bread for about 15 minutes.
Top the buttered bread with shredded cheese to make cheese garlic bread.
Writer Bio
Shelley Frost writes professionally on a full-time basis, specializing in lifestyle, family, parenting and relationship topics. She holds an education degree and has extensive experience working with kids and parents.
Photo Credits
Hakat/iStock/Getty Images