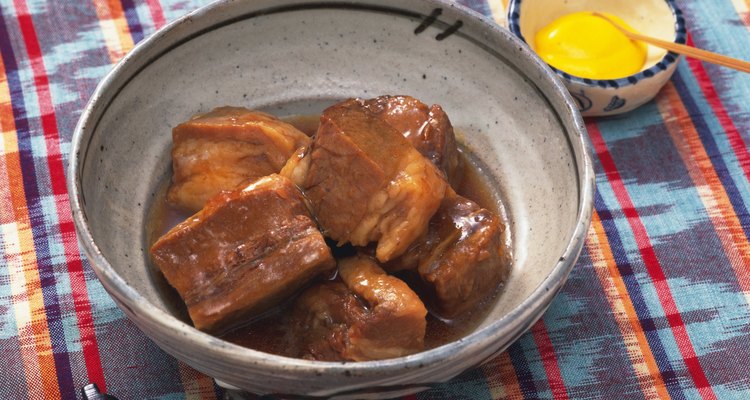 DAJ/amana images/Getty Images
Unlike fatty pork of yesteryear, today's pork offers much leaner cuts that cook up more quickly on the stove. However, although leaner cuts are healthier, they can dry out as quickly as they cook. To avoid drying, start cooking the meat on a high heat to sear in juices, and finish cooking it under a covered pan with the heat turned low. Replacing your traditional frying pan with a non-stick, stove-top griddle will allow the pork to sear in flavor without the addition of fat.
Skillet Pork Cutlets
Choose a low-fat and lean yet tender cut of pork such as tenderloin, and slice into ¾-inch-thick pieces. Tear two pieces of parchment paper or cling wrap. Place pork slices between the paper or cling wrap and flatten with a meat mallet until each piece is approximately ¼ inch thick.
Combine breadcrumbs and salt and pepper in a shallow dish. For a healthier, low-calorie option, combine whole wheat crumbs and crushed bran cereal, or add gluten-free options such as cornmeal or rice flour to reduce the absorption of oil while cooking. Add savory seasonings such as garlic powder, onion powder, smoked paprika, dried thyme or rosemary, or some cayenne pepper for extra heat.
Pour a couple of tablespoons of oil into a large skillet or frying pan and heat over medium-high heat; consider using heart-healthy oil with a high smoke point such as safflower oil or light, nonstick cooking spray for a low-calorie alternative. Crack the eggs in a bowl and whisk; use egg whites for a low-calorie option. Dip pork slices into the egg mixture and then into crumbs, turning over to coat both sides.
Place crumb coated cutlets into hot skillet, and cook for 2 to 3 minutes per side, until golden and cooked through. Insert a thermometer into center of cutlet. When the temperature reaches 145 degrees Fahrenheit, remove from the skillet.
Pan-Roasted Pork Chops
Choose lean pork chops with less fat such as sirloin chops or top-loin chops. Spray a large saute pan, griddle or frying pan with a light, nonstick cooking spray, or lightly coat with a heart-healthy oil with a high smoke point, like safflower. Heat the skillet over medium-high heat.
Dry the pork chops with a paper towel and season to taste. If desired, add additional seasoning such as garlic powder, onion powder and paprika. Or, if you prefer, add a little heat with chipotle powder or cayenne pepper. Place pork chops carefully on the pan.
Sear chops for 2 minutes on each side or until nicely browned and caramelized. Reduce heat to medium-low. Cover the pan with a lid and continue cooking until internal temperature reads 145 F on a thermometer.
Move pork chops from the pan to a plate and loosely cover with tin foil. Allow chops to rest for 5 minutes, permitting the juices to flow back into the center of the meat. Serve with an accompaniment of applesauce, cranberry chutney or sautéed apples and pears.
References
Writer Bio
Katherine Macropoulos has authored two books; a fictional, young reader and a spiritual autobiography. Her areas of expertise include food, beauty and style, travel, culture and society, business and spirituality. Macropoulos holds a Bachelor of Arts in English, a diploma in photography, graphic design and marketing and certification in esthetics.
Photo Credits
DAJ/amana images/Getty Images