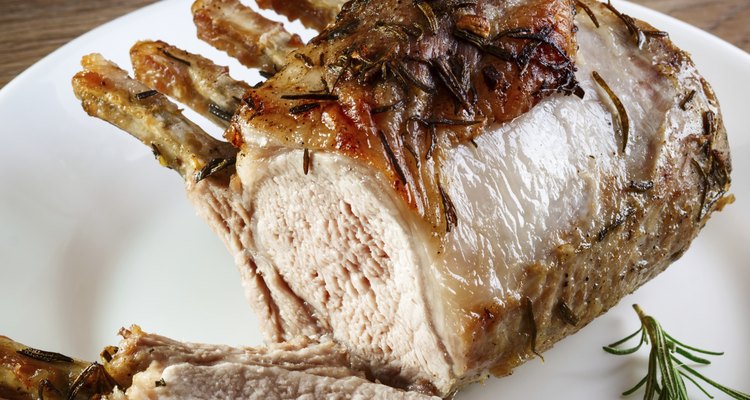 Valengilda/iStock/Getty Images
A rack of pork, also known as a pork rib roast, is a beautiful cut of meat that includes the pork loin and back ribs. It creates an impressive presentation for dinner parties or holiday meals, but is simple to prepare. Roasts are also great for group gatherings because they provide different levels of doneness to choose from. The end cuts are more well done while the center is cooked a little less. Rack of pork can be cooked simply in a shallow roasting pan, after being rubbed with a combination of olive oil and fresh herbs.
Preheat oven to 350 degrees Fahrenheit.
Place the pork rib roast in a shallow roasting pan, bone side up.
Season all sides of the roast with salt and pepper.
Mix the garlic, herbs, and olive oil together and rub a generous amount over the pork.
Cover the ends of the bone with foil to protect them from burning during cooking.
Roast pork in oven until a thermometer inserted into the center reads 155 degrees, or approximately 20 minutes per pound.
Remove meat from oven and let rest for 10 to 15 minutes, covered with aluminum foil, before slicing and serving.
Resources
Writer Bio
Kimberly A. Smith has been a freelance writer for two years. She graduated from the University of California at Davis and the California Culinary Academy, then pursued a career baking wedding cakes. During her time at CCA, she received certification in nutrition and food safety. She currently attends the University of Oregon School of Law.
Photo Credits
Valengilda/iStock/Getty Images