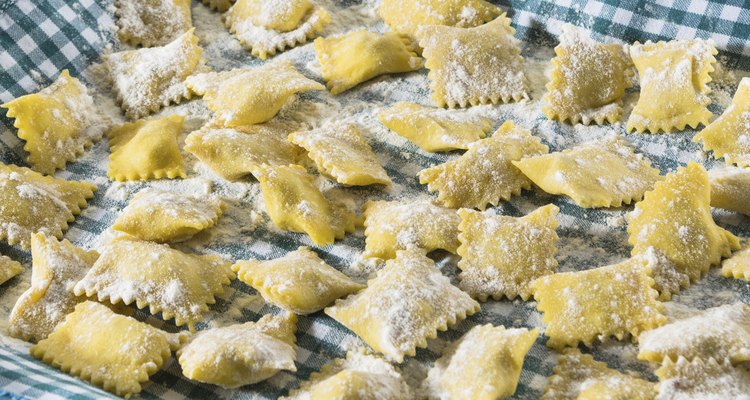 oneinchpunch/iStock/Getty Images
When it comes to pasta, cheese ravioli isn't the best option if you're watching your calories, although that type of pasta is lower in calories than meat ravioli. Knowing how many calories cheese ravioli contains, however, can help you fit a serving into your diet every now and then as an occasional treat.
Frozen Vs. Canned Ravioli
A 1-cup serving of frozen cheese ravioli with tomato sauce contains 176 calories and 4.2 grams of fat, which is a bit lower than if you opted for canned meat ravioli in tomato sauce, which contains 259 calories and 8.9 grams of fat. Canned cheese ravioli falls in between these two options, providing 186 calories and 3.5 grams of fat per cup.
A Homemade Alternative
Making homemade cheese ravioli from scratch can be a bit daunting for people who don't cook a lot, but it can result in a lower-calorie alternative since you can use low-fat or fat-free cheese. One alternative that can make the process easier is to use pot sticker wrappers instead of making pasta yourself. Fill them with a mix that includes part-skim ricotta, Parmesan cheese, egg and spices, then boil them and serve them with your favorite low-calorie pasta sauce. These ravioli will be much larger than the canned ravioli, with a six-piece serving, or about 1.5 cups, providing about 270 calories and 8 grams of fat.
References
Writer Bio
Based in Massachusetts, Jessica Bruso has been writing since 2008. She holds a master of science degree in food policy and applied nutrition and a bachelor of arts degree in international relations, both from Tufts University.
Photo Credits
oneinchpunch/iStock/Getty Images