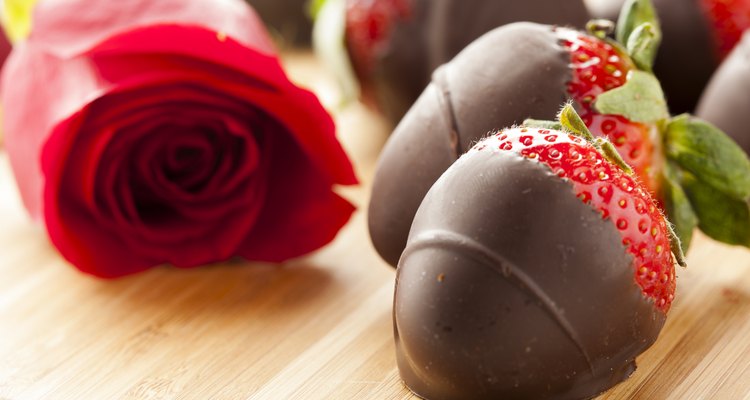 bhofack2/iStock/Getty Images
Edible Arrangements is a gift delivery company franchised worldwide. Rather than drivers arriving at homes and businesses with flowers, the company produces bouquets of fresh cut, premium fruit. A popular item in its catalog is its chocolate-dipped strawberries, which is one of the lowest calorie options in its catalog.
Edible Arrangements Nutritional Information
Edible Arrangements does not provide nutritional information on its website. However, it does publish a nutritional guide that it provides at each store upon request. The guide shows that each dipped strawberry contains 60 calories.
Considerations
A bestselling book reports that the average chocolate-dipped strawberry has fewer calories than the ones in the Edible Arrangements offering. "The CalorieKing Calorie, Fat & Carbohydrate Counter" says chocolate-covered strawberries have 45 calories each.
Compared to Homemade
Making the dessert at home does not mean lesser calories. The online recipe database Allrecipes.com carries two options for chocolate-covered strawberries. Based on the recipes yield of three cups of fruit and the estimate by the Produce for Better Health Foundation that one cup of strawberries has eight pieces, each chocolate-covered berry has 115 calories per berry. That is nearly three times as many as the Edible Arrangements variety.
References
"The CalorieKing Calorie, Fat & Carbohydrate Counter," A. Borushek; 2009.
Edible Arrangements Nutritional Information Guide
Writer Bio
Jared Paventi is the communications director for a disease-related nonprofit in the Northeast. He holds a master's degree from Syracuse University's S.I. Newhouse School of Public Communication and a bachelor's degree from St. Bonaventure University. He also writes a food appreciation blog: Al Dente.
Photo Credits
bhofack2/iStock/Getty Images