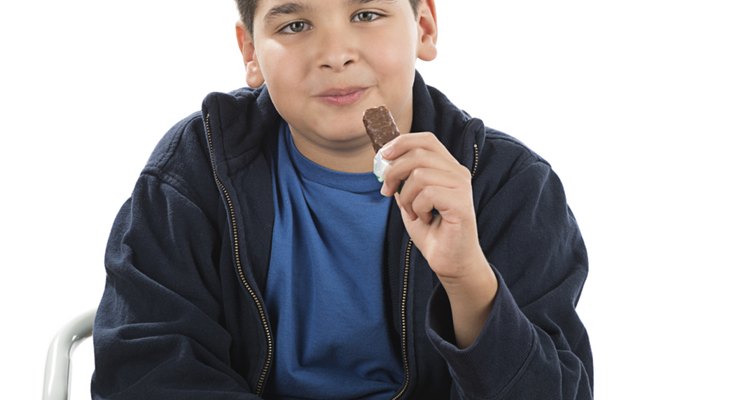 LeventKonuk/iStock/Getty Images
Mars or Milky Way. It may be tough to choose which one you want sometimes. Mars and Milky Way are chocolate bar brands made by Mars, Inc. The Mars bar was originally only made in Britain, but is now sold worldwide. A mini Mars bar has more calories than a mini Milky Way bar, but the Mars bar is larger.
Considerations
American Mars bars and Milky Way bars are similar. The Mars bar has a nougat center with almonds, topped with caramel and coated with milk chocolate. The American Milky Way bar has a nougat center, covered with caramel and coated with milk chocolate. The Mars bar and Milky Way bars found in other parts of the world differ considerably from the American versions.
Mini Mars Bar
One serving is equal to one mini Mars bar, which is 18 grams or .6 ounces. The mini bar is sometimes referred to as a snack size bar. One mini Mars bar has 81 calories, 3 grams of fat, 13 grams of carbohydrates, 12 grams of sugar and 1 gram of protein.
Mini Milky Way Bar
If you compare one mini Milky Way bar to one mini Mars bar, the Mars bar has more calories. One mini Milky Way bar has about 30 calories. However, the Milky Way bar is smaller and one serving is equal to five pieces, which is 1.5 ounces or 43 grams. One serving of mini Milky Way bars has 190 calories, 8 grams of fat, 30 grams of carbohydrates, 25 grams of sugars and 2 grams of protein.
References
Writer Bio
Based in Austin, Texas, Jolie Johnson has been in the fitness industry for over 12 years and has been writing fitness-related articles since 2008 for various websites. She received her Bachelor of Arts in English and philosophy from the University of Illinois.
Photo Credits
LeventKonuk/iStock/Getty Images