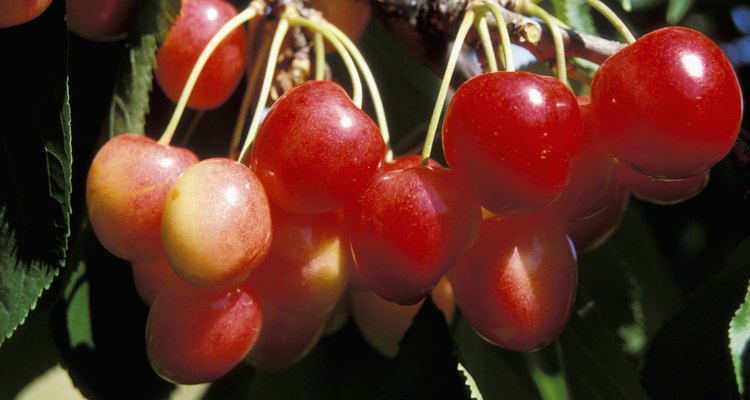 Purestock/Purestock/Getty Images
Nutri-Grain cereal bars are a convenient option for breakfast or as a snack. While the bars provide a good source of many nutrients and even whole grains, they do have some nutritional limitations. Nutri-Grain bars can be part of a healthy diet, but they should not be relied upon as a major dietary source of fruit or whole grains.
Calorie Distribution
Each Nutri-Grain bar is a single serving and contains 120 calories, according to Nutri-Grain's website. The calories in each bar come from 3 g fat, 24 g carbohydrate and 2 g protein. Of the 3 g fat, 0.5 g comes from saturated fat, while 12 g of the carbohydrate content comes from sugar. Forty percent of the calories in a Nutri-Grain bar come from sugar, while 25 percent come from fat.
Whole Grains
The front of each box of Nutri-Grain bars touts the product's whole-grain content. Each bar contains 8 g of whole grains, which is about 17 percent of the recommended 48 g per day, according to the Whole Grains Council. The whole-grain content in Nutri-Grain bars consists of whole-grain oats and wheat. The grain content is not 100 percent whole-grain, as the product also contains refined wheat flour. The inclusion of whole grains in Nutri-Grain bars contributes to its dietary fiber content of 3 g per bar, or 10 percent of the daily value.
Vitamins and Minerals
Nutri-Grain bars are fortified with vitamins and minerals, making them a good source of many essential nutrients. Each bar contains 25 percent of the daily value of niacin, riboflavin and vitamin B6, 20 percent of calcium, 15 percent of vitamin A and thiamine, and 10 percent of folic acid, iron and zinc. Each bar also contains 110 mg sodium, or 5 percent of the daily value.
Superfoods
Nutri-Grain also offers a Superfood Fusion line of cereal bars. The flavors, such as Strawberry-Acai and Cherry-Pomegranate, appear to provide additional nutritional benefit above and beyond that of the traditional flavors, but they actually do not. Fruits like pomegranates and acai do contain beneficial phytonutrients that may promote health and even prevent disease; however, these flavors of Nutri-Grain bars contain very small amounts of these superfoods. It is best to consume whole fruits in order to obtain adequate amounts of beneficial phytonutrients.
Antioxidants
The Superfood Fusion flavors also tout their antioxidant content, though this is not due to their superfood content. The bars actually contain additional vitamin fortification of ascorbic acid and alpha-tocopherol acetate, which are forms of vitamin C and E, respectively. Each of these bars contains 20 percent of the daily value of vitamin C and E, both of which are absent from the standard Nutri-Grain bars. These vitamins have antioxidant properties that may help to reduce the effects of oxidative stress within the body.
References
Writer Bio
Steven Lalevich is a registered dietitian who began writing in 2010 for various websites. He graduated Phi Beta Kappa, earning a Bachelor of Arts in economics from Indiana University where he also completed the didactic program in dietetics. Lalevich is pursuing a Master of Science in human nutrition at the University of New Haven.
Photo Credits
Purestock/Purestock/Getty Images