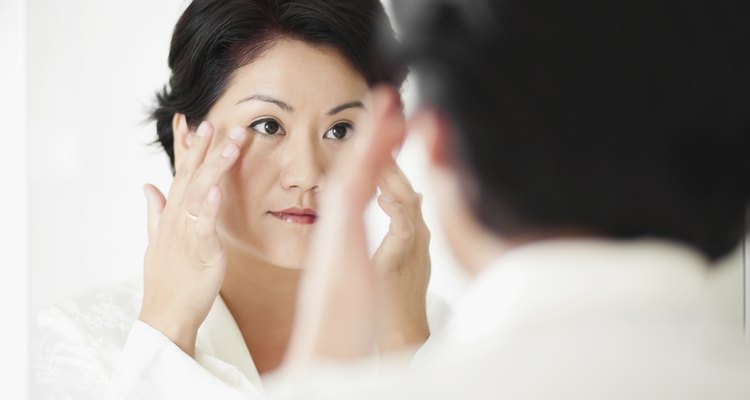 Maria Bobrova/iStock/Getty Images
Nu Skin is a multi-level marketing skincare company that was founded on a shoestring in 1984 by a young man named Blake Roney. Now it is a billion-dollar publicly traded company, the fourth largest business in Utah and one of the largest MLM companies in the world.
Products
Nu Skin works by selling people health, beauty and anti-aging products. Starting out with just a face cream that founder Roney described as a "face lift without surgery," Nu Skin now sells a vast list of products to its customers and distributors. There are product lines for Vitality, Cell Protection, Energy and Stamina, Heart Health, Weight Management, Digestive Health and a number of other categories.
Distributors
Nu Skin works by signing up a horde of people to distribute its products. A company with worldwide scope, Nu Skin has some 750,000 independent distributors around the world. You can sign up to be a distributor on the Nu Skin website and buy an array of marketing and sales material from the company, including brochures, beanies and business cards.
Scientists
Nu Skin works by conducting research before launching new products. In the mid-1990s, Nu Skin ran afoul of government regulators. In 1994, Nu Skin was ordered by the Federal Trade Commission to back up its health claims with reliable scientific evidence. In 1997, it paid the FTC a fine of $1.5 million after claims for a weight-loss supplement that the FTC said violated the 1994 agreement. Now Nu Skin employs more than 100 scientific researchers to discover, test and validate claims for its products.
Critics
Nu Skin works despite the fact many people criticize MLM companies. As the "Deseret News" wrote in 2009 in a story about the 25th anniversary of Nu Skin, not everyone is enamored with the company. Former Nu Skin director Jon Taylor, who now runs the website mlm-thetruth.com, told the paper that about the only people buying products from companies such as Nu Skin are its own distributors that sign up as salespeople. "MLMs are essentially dependent on an endless chain of recruitment of participants as primary customers. It's the same principle as a chain letter."
Reviews
Nu Skin works despite some less-than-stellar reviews for some of its products. BeautifulReviews.com site isn't sold on Nu Skin products that claim to erase the appearance of fine lines and wrinkles in as little as seven days. It states that alpha hydroxy acid, an ingredient used in some Nu Skin products, can be a "strong irritant" to the skin and argireline, a more effective anti-wrinkle ingredient, doesn't appear to be contained in any of Nu Skin's anti-aging line of products. The review concludes by stating, "there are plenty of other options on the market, including creams with powerful anti-wrinkle ingredients that are offered at much more affordable prices."
Writer Bio
Jim Thomas has been a freelance writer since 1978. He wrote a book about professional golfers and has written magazine articles about sports, politics, legal issues, travel and business for national and Northwest publications. He received a Juris Doctor from Duke Law School and a Bachelor of Science in political science from Whitman College.
Photo Credits
Maria Bobrova/iStock/Getty Images