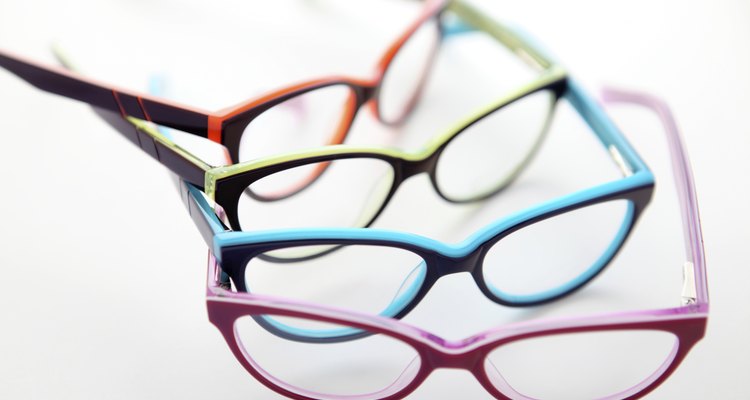 Visivasnc/iStock/Getty Images
It may be difficult to throw away perfectly good glasses because your prescription changed. Instead, donate used glasses and sunglasses to one of several charities that sort and donate glasses to visually-challenged people around the world.
The Lions Club
The Lions Club provides donation boxes at optometrists' offices such as the vision centers at large retail stores. If you have a donation drive at work, a Lions Club volunteer will pick up the box of eyeglasses; call your local Lions club to request a pickup. Prescription, reading and sunglasses are accepted.
New Eyes
New Eyes accepts used eyeglasses, sunglasses, hearing aids, jewelry and other recyclable items. Used eyeglasses in good condition are sent to other medical and charitable organizations for worldwide distribution. The U.S. eyeglass voucher program is supported by the sale of recyclable items such as hearing aids and jewelry. Enclose your return address when shipping your used eyeglasses to New Eyes so you receive a receipt for your donation.
OneSight
OneSight accepts donations of used eyeglasses at several retail locations, including LensCrafters, Pearle Vision and Sears. While OneSight provides new eyeglasses to patients, used eyeglasses are recycled into components. OneSight receives payments for the recycled materials and puts the money back into various programs including eyeglass vouchers and OneSight's Vision Van.
References
Writer Bio
With degrees in fine and commercial art and Spanish, Ruth de Jauregui is an old-school graphic artist, book designer and published author. De Jauregui authored 50 Fabulous Tomatoes for Your Garden, available as an ebook. She enthusiastically pursues creative and community interests, including gardening, home improvement and social issues.
Photo Credits
Visivasnc/iStock/Getty Images