Vintage eyeglass frames dating from the 1800s (or even earlier) to the 1980s allow wearers to recreate the wire-rimmed look of a turn-of-the-century scholar or the cat's-eye style of a 1950s fashionista. As Joann F. Schnell points out in "The Vintage Advantage," the business of vintage eyeglasses is booming. Available from thrift stores, optometrist shops, antique malls and online brokers, vintage frames can in most cases be fitted with modern prescription lenses for a distinctive, retro look.
Check plastic frames for cracks or clouding, which indicate that the plastic is too aged and vulnerable to withstand the fitting of new lenses. If you've chosen wire frames, look for bent temple pieces or nose pieces. Examine the inside of the nose piece and the temple pieces for matching manufacturer's names or logos. If they don't match, your glasses may have been repaired at some time, using different pieces that could compromise the fit.
Ask your optometrist to fit custom lenses to your vintage frames. If he can't do that, obtain a copy of your current prescription. Determine whether your prescription requires a specialized, high-index or progressive lens, since these types of lenses may not fit the smaller frames of vintage eyeglasses.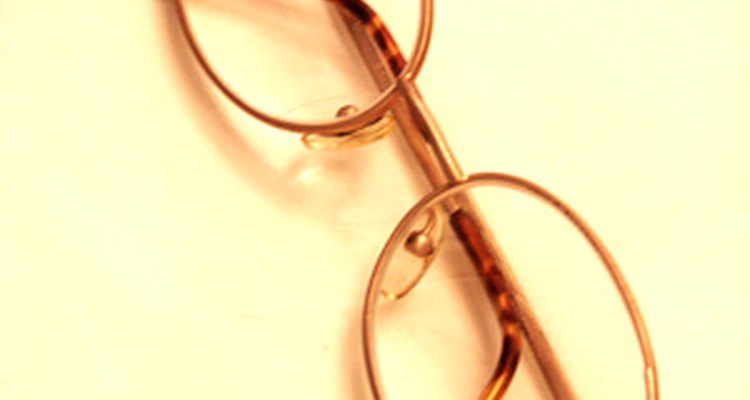 Contact local optometry shops, some of which may even carry their own stock of vintage frames. Ask whether the shop will fit lenses to products not sold there, and whether additional fees will be charged for custom-cutting the lenses. The website of Allyn Scura Eyewear, which carries more than 50,000 vintage and antique frames, provides a state-by-state listing of opticians and optometrists in the United States who offer this service. Or, send your prescription and frames to an online optometry shop dealing in vintage eyeglasses. The Optometrist's Attic, an online shop dedicated to vintage glasses, provides custom lens fitting as well as repair. Eyeglasses.com, another online eyeglass service, not only sells vintage frames but also provides replacement lenses with a current prescription, and Eyeglass Boy, a large online vintage frame dealer, promises custom lenses in about a week.
References
Writer Bio
Carla Jean McKinney has been writing professionally since 1989. She is the author of three nonfiction books and numerous published short works, as well as articles on natural sciences and the environment. Also a photographer, McKinney earned her Master of Arts at the University of Arizona and is a graduate of the Sessions School of Design.
Photo Credits