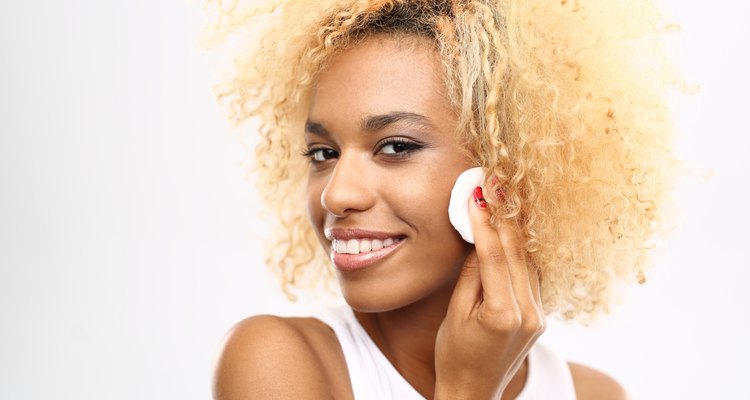 robertprzybysz/iStock/Getty Images
Both Proactiv and Murad are heavily marketed on radio stations and during television shows when teens are likely to watch. Each product claims to offer amazing results and uses clever marketing strategies that make their products seem like the answer to all acne problems. As you're deciding which acne treatment is right for you, understanding the history and product line of each brand can help you make a better informed decision for you and your skin.
Creators
Proactiv was created by Katie Rodan, professor of dermatology at Stanford University School of Medicine, and Kathy Fields, a board-certified dermatologist. The two dermatologists were interested in finding an acne solution that was effective without being damaging or drying to the skin.
The Murad skin care line was created by dermatologist Howard Murad, a professor of dermatology at UCLA. He boasts a full line of skin products, from acne-fighting to anti-aging, and holds 17 dermatological patents, according to the Murad website.
Product Line
The Proactiv system is based around three products, with other products added as bonuses to help expedite results and stop sudden breakouts. First, the Renewing Cleanser is used to cleanse and exfoliate the skin. The Revitalizing Toner is then used to soothe skin, shrink pores and exfoliate dead skin cells. Finally, the Repairing Treatment is used to treat existing acne. A clay mask also may be purchased and used for sudden breakouts, along with a green tea-based moisturizer.
Murad is also based around three products. The Clarifying Cleanser is the first step, and it claims to reduce surface bacteria in just 60 seconds. The Exfoliating Acne Treatment Gel helps to clear pores of impurities, and the Skin Perfecting Lotion is used last to hydrate skin and protect it from drying. Murad also offers a Purifying Mask and Acne Spot Treatment for unexpected breakouts.
Ingredients
The Proactive Renewing Cleanser contains 2.5 percent benzoyl peroxide. The Revitalizing Toner relies on glycolic acid to help dissolve dead skin cells. The Repairing Treatment also contains 2.5 percent benzoyl peroxide for further acne treatment.
Murad's Clarifying Cleanser uses salicylic acid to help keep your skin clear, while the Exfoliating Acne Treatment Gel uses glycolic acid in the same way that the Proactiv Revitalizing Toner does, to help dissolve away pore-clogging dirt and dead skin cells. The Skin Perfecting Lotion is used mostly as a moisturizer, so it contains ingredients such as floral extracts and glycerin.
Cost
As of 2010, the Proactiv system costs $19.95 for a one-month supply of all three products. You can purchase other products for an added cost. The Murad Acne Complex system costs $29.95 for a one-month supply, and it contains the three products you need for the system, plus the spot treatment and the clarifying mask products.
Endorsements and Marketing
Proactiv heavily markets the brand, relying on celebrity endorsements from Katy Perry, Julianne Hough, Avril Lavigne, Mandy Moore and even Justin Beiber to sell the brand to consumers. Murad doesn't used celebrity endorsements, and, as of 2010, uses the slogan "Real People, Real Stories, Real Results," even offering success stories from regular users to sway you to purchase the product.
References
Writer Bio
Kay Ireland specializes in health, fitness and lifestyle topics. She is a support worker in the neonatal intensive care and antepartum units of her local hospital and recently became a certified group fitness instructor.
Photo Credits
robertprzybysz/iStock/Getty Images