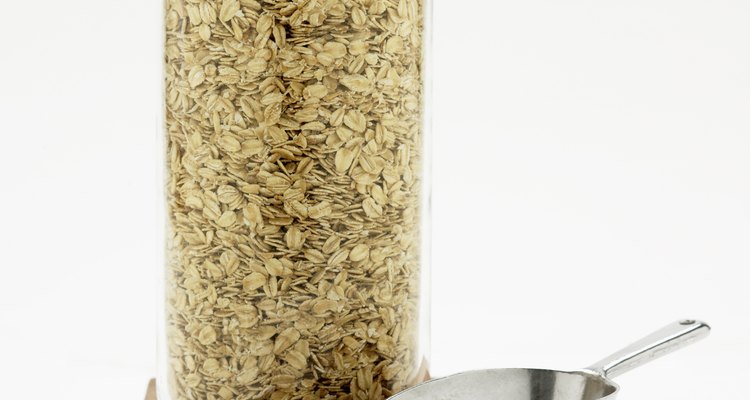 Jupiterimages/Creatas/Getty Images
Oats are gentle and effective additions to homemade facial cleansers. Long used to soothe dry, itchy and irritated skin, oatmeal facial cleansers naturally treat acne as well as a wide range of skin ailments. When used regularly, oatmeal facial cleansers can reduce skin inflammation and lessen the appearance of pores. Oatmeal also contains saponins -- mild cleansing agents -- that gently clear pores of oil and dirt, making it an excellent toning face wash.
Not Just for Breakfast
While oatmeal scrubs work well at removing layers of dead skin cells, you can also prepare an oatmeal milk for all the benefits of oatmeal without the coarseness of a scrub. Take two cups of oatmeal and one liter of water or milk and gently simmer for 30 - 40 minutes. Strain liquid and store remainder in the refrigerator for two to three days. To use the oat milk facial cleanser, dampen face and neck. Take a clean cotton ball and apply oat milk in light, upward circular motions. Rinse face with warm water and follow with a moisturizer of choice. Use daily for best results.
References
Tips
You can add a touch of vanilla, mint or almond extract to give your cleanser a pleasant scent.
Writer Bio
Tara Thomas has been a writer and traveler since 1997. Her articles appear in various online publications. She also has experience authoring grant proposals for a Southern California marine science laboratory, which helped her develop a lifelong interest in environmentalism. Thomas is an event planner, has a Bachelor of Science in marine biology from California State University, Long Beach, and worked as a mortgage consultant since 1998.
Photo Credits
Jupiterimages/Creatas/Getty Images