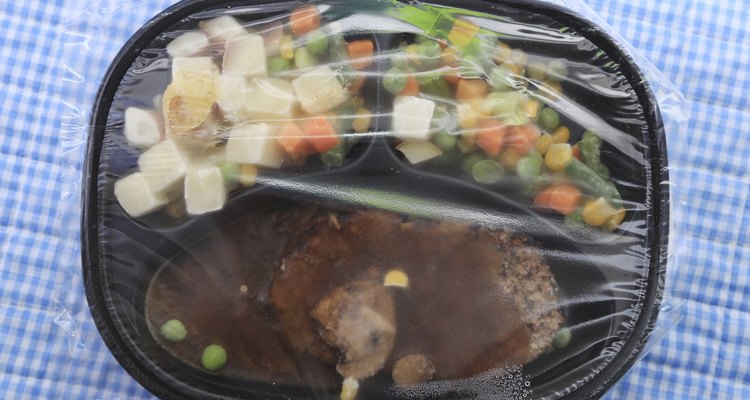 Warren Price Photography/iStock/Getty Images
Portion-controlled frozen meals can be very helpful for weight loss; many are less than 400 calories while including nutrient-rich vegetables and protein. But many frozen meals also contain gluten, a protein found in wheat, barley and rye. Gluten causes intestinal damage and nutrient malabsorption in people with the autoimmune disorder celiac disease, while others feel that they cannot tolerate gluten and avoid it. Those who are looking to lose weight and avoid gluten can find a variety of gluten-free frozen meals from brands including Udi's Gluten Free, Amy's Kitchen, Weight Watchers Smart Ones and Evol.
Udi's Gluten Free: Entirely Gluten-Free Products
Udi's Gluten Free's frozen meals are guaranteed gluten free by the Gluten-Free Certification Organization. Udi's offers broccoli and kale lasagna and Italian sausage lasagna, both of which are under 400 calories, contain at least 15 grams of protein -- 19 percent of the recommended percent daily value, or DV -- and 3 grams of fiber -- 12 percent of the DV -- to help keep you full. The sausage lasagna has 15 percent of the daily recommended iron intake, important for healthy red blood cells, while the broccoli and kale lasagna has just 290 milligrams of sodium, well below the recommended value of less than 2,400 milligrams daily.
Amy's Kitchen: Natural and Organic Foods
Amy's Kitchen is one of the leading natural frozen-food brands with vegetarian products that cater to many dietary needs and concerns, including gluten-free. These gluten-free products include rice and stir-fry bowls, pasta dishes, burritos, pizza and vegetarian meat-based entrees, most of which have fewer than 400 calories. Many dishes contain 9 or more grams of protein, and some dishes, like the Tortilla Casserole and Black Beans Bowl, contain 10 grams of fiber, almost half your daily needs. Amy's also offers a light-in-sodium version of some meals, which is 50 percent less sodium than the original.
Weight Watchers Smart Ones: Portion-Controlled Quick Meals
Weight Watchers Smart Ones offers 10 gluten-free breakfast and dinner entrees including vegetarian rice and beans, eggs, chicken-based dishes and soups. Smart Ones frozen meals are portion-controlled and less than 300 calories. The protein ranges from 6 grams in the Southwest Style Vegetable Soup to 22 grams in the Chicken Mesquite, while the fiber is as high as 7 grams -- 29 percent of the DV -- in the Spicy Black bean soup. Smart Ones also offers some meals with less than 500 milligrams of sodium.
Evol Gluten-Free Foods
Evol says it values the importance of having real and healthy ingredients in its products. Its line of gluten-free products includes many different frozen entrees and burritos with 400 calories or less. Some products are more traditional, like teriyaki chicken, while others, like sweet potato black bean and goat cheese tacos, are less common. Most of the dishes have above 10 percent of the DV of both protein and fiber. Evol also has many meals with less than 20 percent of the DV of sodium.
References
Writer Bio
Based in Upstate New York, Alyssa Simon, has been has been writing health-related articles since 2010. Her articles have appeared in Nourish Interactive, as well as on small health blogs. Simon is a Registered Dietitian and Masters of Science in Nutrition candidate.
Photo Credits
Warren Price Photography/iStock/Getty Images