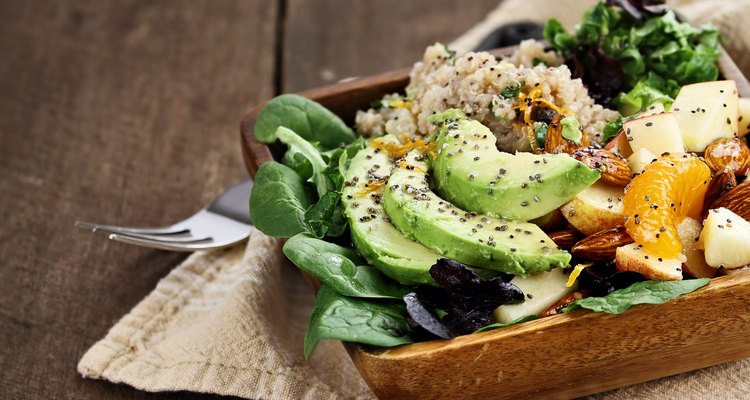 StephanieFrey/iStock/GettyImages
Recognizing the economic, cultural and nutritional value of quinoa, the United Nations declared 2013 to be the "International Year of Quinoa." With its high levels of protein, heart-healthy fats, B-complex vitamins and iron, the grain-like quinoa packs a nutritious punch. Because it's gluten free and has a low glycemic index, quinoa is ideal for those following a gluten-free or diabetic diet. It cooks quickly and easily, and its nutty flavor pairs well with a variety of topping.
Various Vegetables
As a main dish, quinoa works well with roasted vegetables. In the summer months, try a combination of zucchini, squash, mushrooms, bell peppers and sweet onions. In the winter, use a combination of your favorite root vegetables, such as turnips, carrots, parsnips and rutabaga. You can also prepare quinoa like a risotto. Good combinations of vegetables and cheeses include arugula with blue cheese, asparagus and mushroom with Pecorino Romano and spinach with feta.
Lively Legumes
Continuing with vegetarian options, top your quinoa with legumes. Opt for a Mexican-inspired dish by using a combination of black beans, corn, tomatoes and avocado. If you're short on time, saute canned cannellini beans with bell pepper and serve atop a bed of quinoa. Alternatively, top your quinoa with a lentil and tomato dish seasoned with Indian spices, such as garam masala or panch phoron.
Meaty Mains
Quinoa similarly pairs well with meat and seafood dishes. Serve it with grilled lamb chops, tilapia, cod, trout, salmon or scallops. If you have leftovers from the night before, make a cold salad with the meat and quinoa. For example, turkey, cranberries and walnuts served over quinoa makes a delicious fall salad.
Sweet Treats
For breakfast or dessert, try sweet toppings on your quinoa. Fruits such as cranberries, raisins, berries, apricots and apples work particularly well. Sweeten the quinoa with a bit of maple syrup or brown sugar, if desired. Add a pinch of cinnamon or a bit of vanilla extract for some extra flavor that complements the quinoa's natural nutty flavor.
Flavorful Liquids
You don't have to use water to prepare your quinoa. For a flavor boost, use a liquid that complements your quinoa's topping. If you're preparing a breakfast cereal or dessert, try soymilk, almond milk or cow's milk. For savory toppings, use vegetable, chicken or beef broth.
References
Writer Bio
Kat Black is a professional writer currently completing her doctorate in musicology/ She has won several prestigious awards for her research, and has had extensive training in classical music and dance.