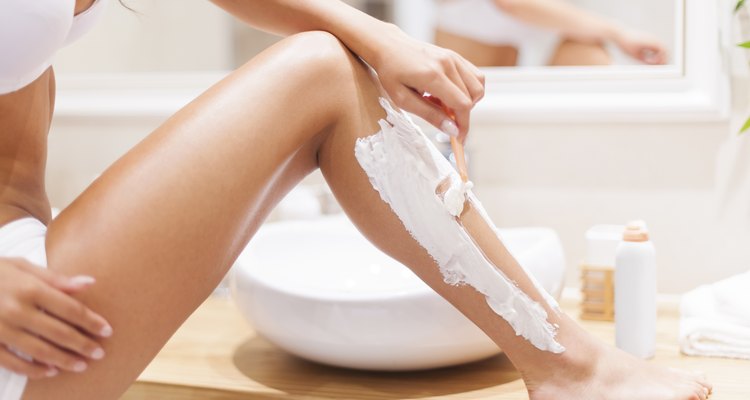 gpointstudio/iStock/Getty Images
When warm weather arrives, it brings with it the need to give your legs some extra attention. A hasty shave that leaves behind ingrown hairs or excess oil buildup can clog pores and make them more visible than usual. This creates an uneven skin tone that distracts from even the best-groomed pins. While you can't alter the size of the pores on your legs, you can minimize them so they fly under the radar. Reduce the look of pores on your legs and feel comfortable showing them off year-round.
Run a warm bath and pour 1/2 cup of Dead Sea bath salts into the water. Soak your legs in the bath for 10 minutes.
Pour a quarter-sized amount of glycolic acid-based scrub onto an exfoliating body brush. Glycolic acid exfoliates while smoothing the skin, and a brush helps to get a deeper clean while increasing circulation to tighten skin. Use a natural-bristle brush for best results.
Position the brush at your ankle and sweep it over your damp leg until you reach the top of your leg. Repeat, working around your legs over all the areas you plan to shave.
Smooth a moisturizing shaving gel over your legs. Gels provide the base for a close shave while adding lasting moisture. Shave from the ankle upward while applying even pressure. Long, even strokes prevent ingrown hairs. Use a clean, sharp razor to avoid razor bumps.
Soak a cotton pad in salicylic acid-based toner and smooth it over your legs using upward circular motions. Salicylic acid removes any remaining debris while temporarily tightening pores to prevent razor bumps.
Massage a thick layer of shea butter into your legs to lock in moisture and encourage healing without clogging your pores. Moisturize daily after showering to keep legs smooth and comfortable.
References
Writer Bio
Celeigh O'Neil has been writing professionally since 2008. She has a Bachelor of fine arts from the University of Ottawa, as well as degrees in fashion illustration/design, digital arts and certification in hair and makeup artistry. O'Neil was a frequent contributor to Toronto's "Dialog" newspaper and has worked as an instructional writer, creating lessons in fashion, art and English for students of all ages.
Photo Credits
gpointstudio/iStock/Getty Images