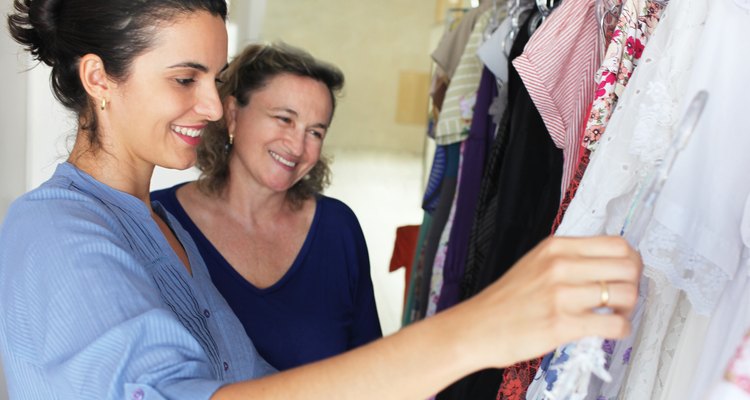 AdamGregor/iStock/GettyImages
Buyers Find Bargains When Sellers Declutter for Cash
Consignment is an agreement under which an owner gives an item to another party to sell. The seller, or consignor, retains a percentage of the transaction as a fee for service when the item is sold. If earning cash for clutter or scoring a bargain isn't enough of a thrill, remember that consignment stores are good for the environment. Every item can be given a new life instead of contributing to a landfill.
What Is a Consignment Shop?
Whether it's called a shop or store, a consignment business offers gently used items for sale that typically cost much less than the same item brand-new. Consignment stores have become increasingly popular, as budget-conscious shoppers look for ways to stretch their dollars. For individuals who wish to consign goods, it's a way to earn some cash while getting rid of items that are no longer needed. Some consignment shops offer a wide variety of goods, while others might specialize in baby and children's items, books, furniture or clothing.
How Does Consignment Work?
Every shop has its own policies, so it's a good idea to visit before actually bringing in the items you want to sell. Shops almost always have scheduled drop-off times, and many require that you make an appointment. Most shops have a set of written guidelines so you'll know what to expect. The guidelines typically list the kinds of items that they accept and might specify certain conditions. For example, the shop might require that clothing items are not only clean but also pressed and brought in on hangers. Some shops might not accept clothing that is handmade or has had the label cut out.
The guidelines will tell you how long an item is kept on consignment and what your options are if the item does not sell. There could be a limit to how many items you can consign at one time. Most important, the guidelines will tell you the percentage of the sale price earned by the store, typically anywhere from 25 to 60 percent. If you don't want to devote the time and effort to hosting a yard sale, consignment fees can seem well worth it.
Pricing Items for Consignment
Most consignment shops will price your items for you. Shop employees know what items will sell and how much bargain-minded buyers are willing to pay. It can be hard to see a low price put on an item that cost you a lot more, but remember that the consignment shop is in business to make money too. Trust that experienced consignors understand the market and will price items so that they will sell.
Getting Items Ready to Consign
Clothing: If an article of clothing still has its tags, leave them on. Potential buyers will see the original price and also know that the item is unworn. Make sure used clothing is clean and pressed. Check for stains, frays, small rips, missing buttons and sticky zippers. Many shops will not accept items with these flaws because shoppers will not buy them, even at bargain prices.
Furniture: Make sure any handles or knobs are screwed on tightly. Furniture arms and legs should be stable, not wobbly. Repair small nicks and scratches, and make sure the item is free from dust. Upholstered furniture should be stain-free. If it has picked up a musty smell from being in an attic or basement, freshen it up with a fabric spray specifically designed to remove odors.

Baby items: Everything should be clean and in good repair. Be aware that manufacturers sometimes recall items deemed unsafe, such as cribs and car seats, and consignors might reject an item on that basis. Consignors usually do not accept stuffed animals or toys and games with missing pieces.
Books: Dust books before bringing them in for consignment. If a book is mold- and mildew-free but still has that "old book" smell, sprinkle some baking soda in an airtight bag or container and leave the book in it for a few hours. The baking soda will absorb the odor.
What's Hot, What's Not in Consignment Inventory
Consignment shops want to attract customers with stock that is inviting and continually updated. Buyers like good-quality vintage and contemporary pieces, whether it's clothing, jewelry or furniture. Baby items in good condition generally sell well.
Trends come and go. Midcentury modern furniture and accessories are popular, but you probably won't have any buyers for a massive Victorian-style sofa or a piece with a distinctly 1980s vibe. Entertainment centers and TV armoires don't sell because today's flat-screen televisions do not fit them. Young buyers most often consume digital media and don't need room to store CDs and DVDs. Figurines are no longer popular unless they are highly unusual or quirky. You can usually forget about trying to consign a small appliance unless it's brand-new and still in the original box.
Shopping at a Consignment Store
Savvy consignment shoppers know their brands and prices. Consignment shops, especially in upscale neighborhoods, often stock a selection of designer goods selling for a fraction of the original cost. A shop might not have a dressing room, so shopping for clothing in leggings and a tee will make it easier to try on items. Most shops are cash-only and do not accept returns. While delivery of large items is usually not a service offered by consignment shops, you can ask. A shop will generally mark an item as "sold" and hold it for you for a specified period of time while you arrange for transport.
Consignment Auctions
Art, antiques, rare collectibles and other high-value items might be consigned to an auction. The seller sets a reserve price, which is the minimum amount that will be accepted for the item. The actual sale price can be much higher if there is a bidding war. If you plan on attending an auction, check to see if there is a printed catalog of items or if there is an opportunity to view items in person ahead of time.
Some consignors host online auctions. The process is the same as for a live auction, but you can bid on items anywhere in the world without ever leaving home. Just be sure you're dealing with a reputable seller. Establish the condition of the item, payment arrangement, terms of delivery and return policies before sending money to a seller.
References
Writer Bio
Denise Dayton, M.Ed., M.S. teaches career readiness and workplace success, along with other business courses, at a small college in New England.