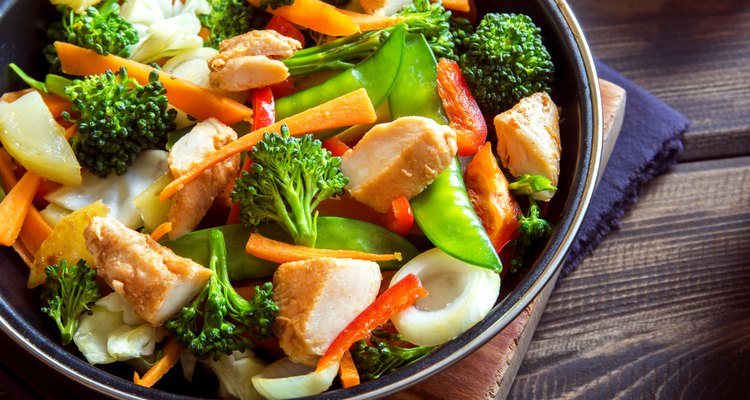 Mizina/iStock/GettyImages
A Quick, Healthy Stir-Fry Recipe
Stir-fry recipes are quick by nature: you cut your ingredients into small pieces and cook them quickly on high heat. This makes the technique ideal for week-night dinners, allowing you to squeeze in your dinner prep between work time and down time. Stir-fries are also packed with flavor, and you can tailor the vegetable ingredients to your own preferences and those of your family. This chicken stir-fry recipe offers a lovely balance of protein and fresh colorful vegetables. Feel free to tinker with that balance, using more chicken, more vegetables or more cashews. For an even quicker version, buy precooked chicken and add it after cooking the vegetables until tender.
Total time: 30 minutes | Prep time: 20 minutes | Servings: 6
3 tablespoons soy sauce
2 tablespoons cooking sherry
1 tablespoon rice vinegar
1 pound boneless, skinless chicken breast, cut into 1-inch pieces
2 tablespoons peanut oil
1 onion, diced
3 cloves garlic, minced
1 tablespoon fresh ginger, peeled and minced
1 red or green bell pepper, diced
2 carrots, peeled (if preferred) and diced
1 cup broccoli florets
1 cup cauliflower florets
1 cup bok choy or napa cabbage, chopped
1/4 cup roasted cashews
1 tablespoon rice flour
In a small bowl, mix the soy sauce, sherry and rice vinegar.

In a separate large bowl, toss the chicken with two tablespoons of this sauce.
In a medium wok or large skillet, heat the oil on medium-high heat. It should be hot enough to sizzle when you drop in a piece of onion, but not hot enough to smoke. Add the chicken pieces and cook, stirring almost constantly until no pink color is remaining in the chicken – about 3 minutes.
Add the onion, garlic and ginger and cook until the onion is soft and translucent – about 5 minutes. Add the bell pepper and carrots and cook for a few minutes longer, then the broccoli and cauliflower and cook until just tender. Add the bok choy or napa cabbage and cook until just wilted, then include the cashews and cook for a minute longer.
Add the remaining sauce and bring to a boil. Sprinkle in the rice flour and cook until the mixture thickens – about 30 seconds.
Writer Bio
Devra Gartenstein is a self-taught professional cook who has authored two cookbooks: "The Accidental Vegan", and "Local Bounty: Seasonal Vegan Recipes". She founded Patty Pan Cooperative, Seattle's oldest farmers market concession, and teaches regular cooking classes.