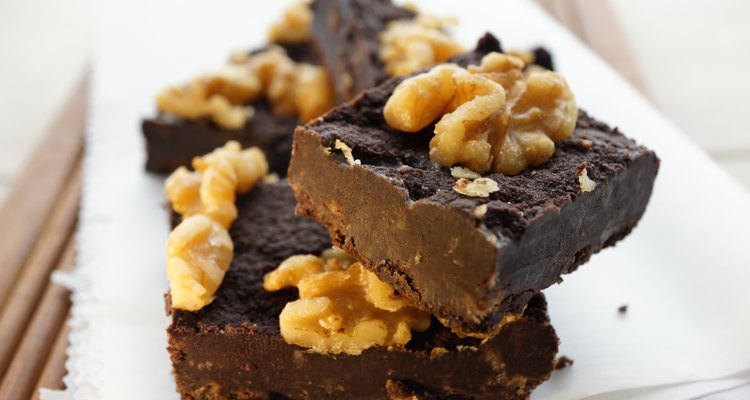 Silberkorn/iStock/GettyImages
An Easy, Sweet, Chocolate-y Treat
Bake sales, teacher gifts and kids' parties are just some of the times when you might need to supply a batch of fudge. Traditional fudge is time-consuming, and really not a practical treat to make if you have a busy to-do list.
But a few shortcuts allow you to make fudge fast. This delectable treat will get rave reviews every time. It looks like the candy makes a long time to make, but the bulk of the process is the time the finished fudge spends setting in the refrigerator.
Total Time: 2.5 hours | Prep Time: 16 minutes | Serves: 48
1 1/2 cups granulated sugar

2/3 cup evaporated milk

2 tablespoons unsalted butter

Pinch of salt

2 cups miniature marshmallows

1 1/2 cups semisweet chocolate chips

1/2 cup chopped walnuts

1 teaspoon vanilla extract

Line an 8-inch square baking dish with parchment paper.

In a heavy-duty medium saucepan, stir together the sugar, evaporated milk, butter and salt. Melt the butter completely, and allow the mixture to fully boil. Stir constantly for 4 to 5 minutes. Remove from the heat.

Add the marshmallows, chocolate, nuts and vanilla. Stir vigorously with a rubber spatula to melt the marshmallows and chocolate.

Pour the mixture into the lined baking pan. Place in the refrigerator for 2 hours, or until firm enough to cut into 48 squares.

Writer Bio
Andrea Cespedes is a professionally trained chef who has focused studies in nutrition. With more than 20 years of experience in the fitness industry, she coaches cycling and running and teaches Pilates and yoga. She is an American Council on Exercise-certified personal trainer, RYT-200 and has degrees from Princeton and Columbia University.