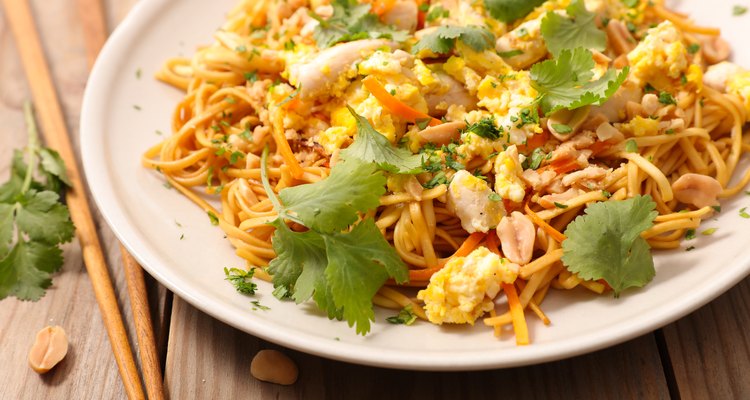 margouillatphotos/iStock/GettyImages
How to Make Pad Thai at Home, the Easy Way
If you love to order pad thai at your local Thai restaurant, you might imagine that such a complex and exotic fusion of flavors is difficult to replicate in your home kitchen with readily available ingredients. Preparing a truly authentic pad thai is a somewhat cumbersome task, but this simplified version is easy enough for any home cook. It comes together quickly and replicates the taste well enough to keep you from grabbing that takeout menu. Tracking down the tamarind paste and stocking your pantry with fish sauce – both key ingredients – is worth it, but other components can be customized or omitted to suit your family's tastes. It's also easy to add your favorite protein ingredient to this recipe, whether it's shrimp, tofu, chicken or ground pork.
Total Time: 20 to 30 minutes | Prep Time: 10 minutes | Serves: 4 to 6
8 ounces pad thai rice noodles

1 to 2 tablespoons tamarind paste
2 to 3 tablespoons brown sugar
2 tablespoons fish sauce
1 lime, cut in half
1/2 teaspoon red pepper flakes (optional)
1 tablespoon vegetable oil
3 cloves garlic, minced
3 cups napa cabbage, sliced fine
2 eggs, beaten
1 cup bean sprouts
3 green onions, sliced
3 tablespoons fresh cilantro, chopped
4 tablespoons peanuts, chopped
Prepare the pad thai rice noodles according to the directions on the package. This usually means soaking them in hot water for approximately 5 to 10 minutes, or until they have softened but still have a little bite. When the noodles are done, drain and set aside.

Prepare the pad thai sauce while the noodles soak. In a small saucepan over medium heat, whisk together 1 tablespoon tamarind paste, 2 tablespoons brown sugar, fish sauce, juice of half the lime, red pepper flakes (if using) and 1/3 cup water. Bring the mixture to a simmer, whisk until the tamarind and sugar are dissolved, then turn off the heat. (Taste the sauce. If too sour, add a little more sugar; if too sweet, add more tamarind paste.)
In a wok or large skillet over medium-high heat, add the vegetable oil and minced garlic. Cook the garlic, stirring continuously, for 1 to 2 minutes.
Add the cabbage and stir-fry it with the garlic for 2 to 3 minutes, or until wilted.
Turn the heat to medium and add the beaten egg. Stir continuously, scraping the bottom of the wok or skillet to gently scramble the eggs for 1 to 2 minutes, until barely set.

Add noodles, bean sprouts and pad thai sauce. Cook everything while gently tossing it to coat the noodles and vegetables with the sauce.
Serve the pad thai noodles topped with green onions, cilantro and peanuts, along with wedges cut from the other half of the lime.
References
Writer Bio
Joanne Thomas has worked as a writer and editor for print and online publications since 2004. Her writing specialties include relationships, entertainment and food, and she has penned pieces about subjects from social media tools for Adobe to artists' biographies for StubHub. Thomas has also written for such names as Disney, Hyundai, Michelob and USA Today, among others. She resides in California and holds a bachelor's degree in politics from the University of Bristol, U.K.