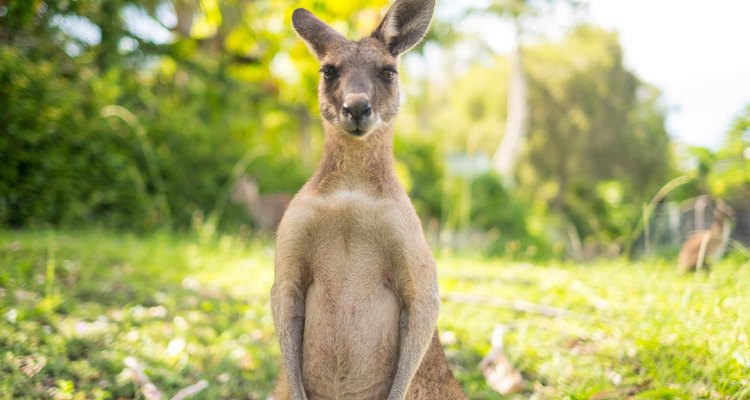 binbeter/iStock/GettyImages
Kicking Back Down Under
Think of Australia as the mirror image of the United States in terms of climate. When it's winter in Sydney, it's summer in San Francisco. Summer solstice in Auckland is just a few days before Christmas. Our autumn is their spring and vice versa. This reverse symmetry is one of many causes for delight during a family trip Down Under.
The best time to visit Australia depends on where you plan to go.
Geography Counts
Remember that, with 5 percent of the earth's landmass, Australia is the world's fifth-largest nation and its largest island. Obviously, the entire country doesn't enjoy the same weather.
You know that in this country the perfect time to visit Maine might be different from the ideal time to visit the Florida Keys. Just so, the best time to visit Sydney, Canberra and Melbourne on Australia's southeast coast is different from the ideal moment to adventure into the Northern Territory or Western Australia.
The farther north you go in Australia, the cooler it gets. So Australia's tropics are along the northern coast; the west and east coasts are subtropical, while the southeastern coast is a temperate zone. The core of the county is desert, ringed by grasslands. All major cities are on the coast, with many in the temperate zone.
Peak Season
Australian winters run from April through September, and this is the peak tourism season in most of the popular parts of Australia. In much of the nation—particularly the northern half—this period also has the most agreeable weather, with temperatures between 66 and 88 degrees F and little rain. The north coast tropical area has moderate coastal humidity during this period, with pleasant temperatures around the clock and cooler nights inland.
If you are thinking of a trip to Australia while the kids are on summer vacation, note that June, July and August are the busiest months in much of Australia. Think about reserving hotels and tours early and expect to pay high season rates.
If your clan plans to stick around Sydney, Canberra and Melbourne during your trip, you'll get more for your money in Aussie summers, which is winter in the U.S.: December through March. It won't get too hot in this region. Don't travel during the period around Christmas/New Year's, however, since that's family vacation time in Australia, and everyone's hitting the beaches.
A trip to the interior desert area means extreme temperatures. It's best to visit here in the cusp seasons, April to May or October to November.
Tips for Getting Around
Australia's cities have so much to offer that you may be tempted to keep the family in one spot for the entire time. Those who know Australia, however, urge visitors to get out into the country at least for part of the trip. You might want to start in Sydney, take a day trip to the Blue Mountains; then spend some time in the northern tropics exploring the reef and the rain forests.
The country's big and interesting regions are far apart, so consider how you want to get from one place to another. Flying within Australia is fairly expensive. If you plan in advance, you'll save money on a Qantas Walkabout Air Pass to provide domestic airfare in Australia. It's much cheaper than regular fares within the country, but you have to buy it when you purchase a Qantas or American Airlines fare from the U.S. to Australia.
You might think of renting a car to get around, but look out. In Australia, everyone drives on the left, and if you've never done it, it's harder than you might think. A better bet, and more fun for the kids, is to take a train. Australian trains are clean, comfortable and reasonably priced, a good buy for the money and an adventure, in and of themselves.
References
Writer Bio
From Alaska to California, from France's Basque Country to Mexico's Pacific Coast, Teo Spengler has dug the soil, planted seeds and helped trees, flowers and veggies thrive. World traveler, professional writer and consummate gardener, Spengler earned a BA from U.C. Santa Cruz, a law degree from Berkeley's Boalt Hall, and an MA and MFA from San Francisco State. She currently divides her life between San Francisco and southwestern France.