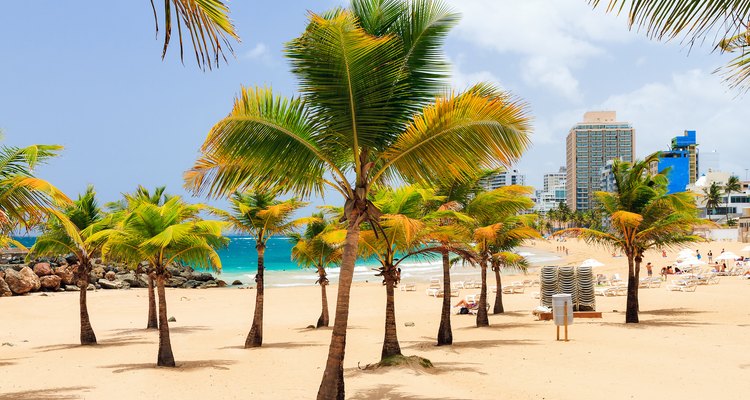 dennisvdw/iStock/GettyImages
Sunning and Funning in Puerto Rico All Year Long
Puerto Rico is a small island, but it offers exceptional natural beauty with its towering mountains, lush rainforests and white silky Caribbean beaches. Although it's a U.S. territory, it feels delightfully foreign with its lively cultural meld of Caribbean, Hispanic, African and U.S. influences.
If you are planning a family vacation in Puerto Rico, almost anytime might be the right time. Puerto Rico doesn't experience dramatic temperature swings. The mercury stays in the 75-to-85-degrees F range year long. But other factors in the equation might point you in one direction or another, depending on your priorities.
Best Weather at Any Cost
Nobody would blame you if you are so eager for your family to have a blast in Puerto Rico that you're willing to pay top prices for the best time possible. Traveling with kids isn't always easy, so why make it harder?
If convenience, best weather and a problem-free trip are your priorities, you'll want to head out in travel peak season. That runs from December 15 to April 15. The weather is driest, and you'll appreciate the sun more, since wherever you live is likely to be in the middle of winter. Since this is the most popular season, every attraction and restaurant is open and rolling out the welcome carpet.
You'll need to plan and book hotels a couple months in advance, for peak season travel. If you want to let the kids experience Christmas in Puerto Rico, book even earlier. Needless to say, lodging and restaurant prices peak in peak season.
Lower Prices Please!
If budget is your priority, consider vacationing in off-season, from May to the end of November. Yes, it is hurricane season. But given the effectiveness of satellite forecasts, you don't have to be afraid. Your family will get enough of a hurricane warning that you can take appropriate precautions if necessary.
However, the weather off-season is hotter and more humid than in winter, and more rain will fall. The good news is that the prices will be considerably cheaper, between 20 and 40 percent less than peak.
But traveling off-season has extra advantages, too. You'll enjoy Puerto Rico's slower, less frenetic pace in summer, less crowded beaches, and no waiting in line for rental cars or restaurant tables. Summer brings more families to Puerto Rico so your children might meet other kids at the pool or at the beach. On the downside, some locales will be closed, and some hotels will be doing annual renovations.
To hedge your bets, consider going at the very beginning of the off-season. In late April and early May, you often get drier weather without hurricanes, but the prices are still lower.
Family Friendly Fun
Puerto Rico is very family friendly, so your kids will probably enjoy a warm welcome at your hotel and in restaurants. The pool plus the beach will likely be on schedule most days, but when you are ready for adventures, here are a few the children will love, and you'll enjoy too.
Yes, you'll find tours that will take the whole family bird-watching, hiking, camping and visiting coffee plantations. But why not add in a kayak tour to La Laguna Grande, a bioluminescent bay in Fajardo? Take the kids for a paddle at dusk and peer into the calm water. It's teeming with tiny marine organisms that glow an eerie, greenish yellow.
Another idea is horseback riding. Head out on magnificent Paso Fino horses into natural areas. One tour takes you along the Mamayes River in the shadow of El Yunque rainforest. Another brings you to Isabela, where you'll find cavernous cliffs and tropical forests. Most horseback rides are two hours long.
References
Writer Bio
From Alaska to California, from France's Basque Country to Mexico's Pacific Coast, Teo Spengler has dug the soil, planted seeds and helped trees, flowers and veggies thrive. World traveler, professional writer and consummate gardener, Spengler earned a BA from U.C. Santa Cruz, a law degree from Berkeley's Boalt Hall, and an MA and MFA from San Francisco State. She currently divides her life between San Francisco and southwestern France.