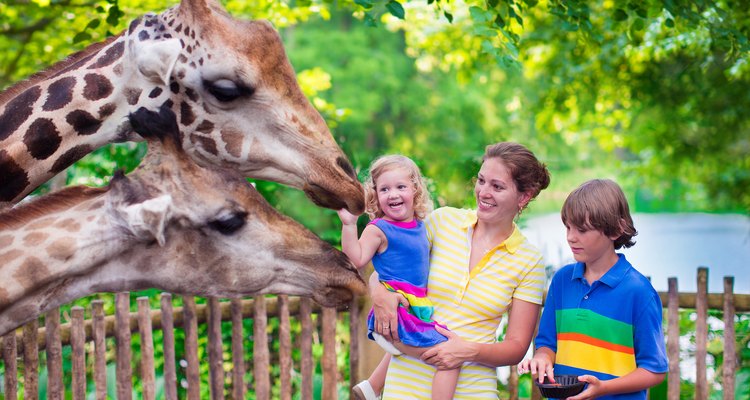 FamVeld/iStock/GettyImages
Rhode Island Family Fun: Five Activities for Little People in the Littlest State
With an area of 1,214 square miles, Rhode Island is the smallest of the 50 states. That's not to say it is not conductive to big fun, however. Families that plan a vacation in the Ocean State—summer is hands down the best time to go—will find a plethora of enriching activities to keep children and adults entertained, ranging from wildlife encounters to quality beach time.
1. Make Furry Friends at the Roger Williams Park Zoo
Can't go on safari? Head instead to the Roger Williams Park Zoo (1000 Elmwood Ave., Providence, RI) in the capital city of Providence, where the lovable residents range in size from the diminutive yellow-banded frog to the massive African elephant. The zoo also features lesser-known mammals such as aoudads, babirusas and binturongs that awaken the curiosity of young and old.
Visit between April and September, when the kids can imagine they are crossing the Sahara as they ride a dromedary camel. From Memorial Day through September, at certain times of the day, the entire family can experience the thrill of feeding a Masai giraffe or a harbor seal. Tickets for feedings are limited and are distributed on a first-come, first-served basis.
2. Inspire Young Imaginations at the Providence Children's Museum
Kids can exercise their minds and their bodies at the Providence Children's Museum (100 South St., Providence, RI), the only one of its kind in Rhode Island. The delightful exhibits range from Water Ways, which allows kids to learn about and harness the power of H2O, to The Climber, a vertical maze for children over the age of 4. Younger tykes can enjoy Littlewoods, a forest- themed area that features a treehouse and a slide. Infants less than a year old get into the museum for free.
3. Meet Denizens of the Deep at BIOMES Marine Biology Center
Get acquainted with New England's diverse marine life at Rhode Island's BIOMES Marine Biology Center (6640 Post Rd., North Kingstown, RI), a hands-on facility where children and adults alike can learn about more than 120 distinct species. They include sharks, eels, crab, tortoises and many types of fish. Visit on the weekend during the school year or when local schools are on holiday to witness feedings and puffer fish demonstrations.
4. Be Enchanted at the Green Animals Topiary Garden
There's no shortage of adorable photo ops at the Green Animals Topiary Garden (380 Cory's Lane, Portsmouth, RI), the country's oldest topiary garden. The name alone should excite the kids, who will feel as if they've fallen into a land of make believe as they frolic around more than 80 topiaries shaped like animals and futuristic geometric figures. Your admission ticket also allows access to the Victorian house on site. Kids won't suspect they are getting a history lesson as they admire the vintage toys on display. The garden is only open seasonally, so call ahead or check its website before visiting.
5. Embrace the Beach-Bum Life on Block Island
With quaint lighthouses and 17 miles of beaches, Block Island off the coast of Rhode Island makes for a lovely New England beach getaway for families. And at just 7 miles long and 3 miles wide, it is manageable with children. The southern portion of the 3-mile Crescent Beach is popular with families because of its shallow waters. To get to Block Island, take the 50-minute ferry ride from Point Judith on the main land, which operates year-round. While the ferry can accommodate vehicles, there are more cons than pros to driving on Block Island. Bicycles are the preferred mode of transportation here, making it a particularly exciting destination for older kids who have shed their training wheels.
References
Writer Bio
Since beginning her career as a professional journalist in 2007, Nathalie Alonso has covered a myriad of topics, including arts, culture and travel, for newspapers and magazines in New York City. She holds a B.A. in American Studies from Columbia University and lives in Queens with her two cats.