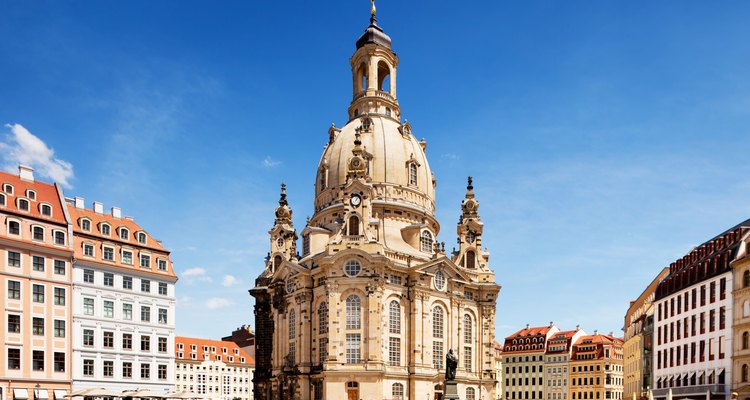 Family-Friendly Activities for Your Trip
Dresden, Germany is a small European city. It's less crowded than Paris or Rome, and its history and architecture can be appreciated by the whole family. This German city offers several activities and sites that are perfect for kids as well as adults, and you can enjoy Dresden throughout the year. So grab your passports and head for the airport.
Hit the Road at the Dresden Transport Museum
Your little ones will love learning the history of cars, trains, ships and airplanes at the Dresden Transport Museum (Augustusstraße 1, 01067 Dresden). Experience 200 years of road transport and 1,000 years of maritime navigation in the museum's permanent exhibitions, and check out their model train—one of the largest of its kind—covering 325 square meters, or 389 square yards. The museum is open Tuesday through Sunday all year, perfect for a visit in any kind of weather. Adult tickets cost 9 euros, while tickets for children 5 and over are 4 euros.
Climb the Frauenkirche Dresden
No trip to Dresden is complete without a visit to the Frauenkirche Dresden (Neumarkt, 01067 Dresden), the iconic domed Lutheran church in the center of the city. If your kids want a view from the top, book an ascent to the top of the dome, which offers a viewing platform after your climb. It's a strenuous hike up, but the views are worth it, and family tickets are available for 20 euros. Or, enjoy a guided tour of the church, which was rebuilt after being bombed during World War II.
Voyage Along the Elbe River
Adventurers of all ages love a good boat ride. You and your family can journey along the Elbe River in Dresden in a historic Saxon paddle steamer. The boats, owned and operated by Sächsische Dampfschiffahrt (Georg-Treu-Platz 3, Dresden), comprise the oldest, largest fleet of paddle boats in the world. The cruises operate all year, and you can choose from several routes, including a River Sightseeing Cruise and a Palace Tour. Family tickets are available for 45 euros (maximum two adults and five kids). Be sure to have your camera ready.
Visit the Dresden Zoo
Everyone loves a trip to the zoo, so your kids will appreciate a journey through the Zoo Dresden (Tiergartenstraße 1, Dresden). It's open all year, with special events like "Enchanting Easter" taking place on various holidays. Enjoy the Africa House, which is home to several elephants, and don't forget to say hello to the two-toed sloth who joined the zoo from Berlin. Adult tickets are 12 euros, and tickets for kids from ages 3 through 16 cost 4 euros.
Expand Your Mind at the Deutsches Hygiene-Museum
Dresden's medical museum Deutsches Hygiene-Museum (Lingnerplatz 1, Dresden) caters to young visitors with its own children's museum, where kids can experience an interactive exhibit about the five senses. It's a fun, hands-on way for your children to better understand how the human body works (without getting too bored in the museum's adult-friendly exhibits). Best of all, kids under 16 are free.