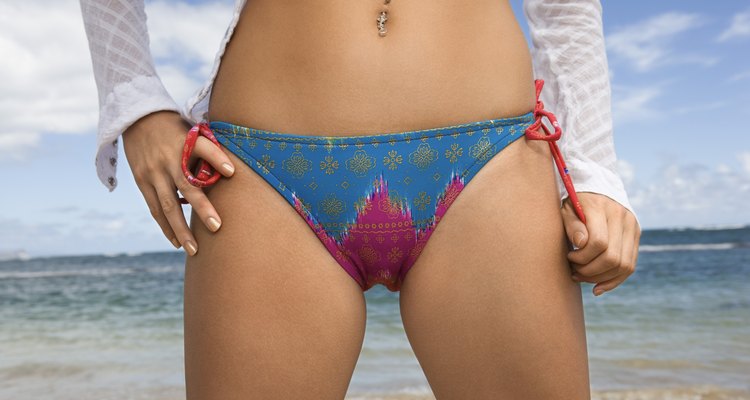 Jupiterimages/Comstock/Getty Images
For many women, the state of their bikini line is a sensitive topic. An unkempt bikini area can be a source of potential embarrassment during swimsuit season. Fortunately, no matter your preference or budget, options are available to help you remove unwanted hair, including ingrown hair, from this delicate area.
Shaving
Shaving is one of the least painful and most cost-effective options for removing unwanted hair from the bikini line. It's best to shave after a shower or after soaking in a tub for at least five minutes, which helps soften the skin and prevent razor burn. Always use a fresh razor to prevent irritation and ingrown hairs. If you're having trouble shaving, use a mirror to help guide you and prevent any nicks, cuts or slips. Once you've finished shaving, rinse the area thoroughly and apply a moisturizing lotion. If your bikini area is sensitive, consider using a product that contains no dyes or perfumes. Prevent any post-shaving razor burn or irritation by keeping your bikini area as dry as possible. Unfortunately, shaving only lasts for one to two days, requiring time and effort for upkeep.
Waxing
Waxing can be performed at home or the salon. The two basic options for waxing are: a traditional wax that involves removing any hair that sits beyond the panty line and a brazilian wax, which removes all hair from the pubic area. Many women choose a Brazilian wax because they believe it's cleaner and more attractive. If you're unaccustomed to waxing, it's best to have it done first by a professional. The biggest downfall of waxing is the pain, which can be lessened by a skin-numbing topical agent. Waxing lasts for several weeks.
Laser Hair Removal
A more permanent solution is laser hair removal. The procedure involves shooting a laser at the bikini line, which works by burning and destroying the hair follicles. Four to six initial treatments are required; to prolong the duration of the results, maintenance treatments one or two times per year may be required. Although more permanent, laser hair removal is more expensive than other options, costing anywhere from $200 to $400 per session. The procedure should only be performed by a licensed plastic surgeon or dermatologist.
Ingrown Hair
A hair most commonly becomes ingrown after shaving, although it's possible after waxing, as well. Aside from being slightly painful, an ingrown hair can also be unsightly. To remove the ingrown hair, MayoClinic.com suggests scrubbing the affected area with a soft-bristled toothbrush or washcloth using a circular motion. However, prevention is key. If shaving, use a sharp blade and shave in the direction of the hair's growth.
References
Writer Bio
Residing in Chippewa Falls, Wis., Jaimie Zinski has been writing since 2009. Specializing in pop culture, film and television, her work appears on Star Reviews and various other websites. Zinski is pursuing a Bachelor of Arts in history at the University of Wisconsin.
Photo Credits
Jupiterimages/Comstock/Getty Images