Photos.com/Photos.com/Getty Images
Hair removal services have increased in popularity in the United States over the last 10 years. Brazilian bikini waxes were introduced to the United States in 1978 by two Brazilian sisters who were hair removal experts in their home country. In Brazil, women were years ahead of American women when it came to hair removal services. brazilian waxing differs from a regular bikini wax because hair is removed from the complete pubic area; this includes the front, back and everything in between. The only real difference between a traditional Brazilian wax and an extreme Brazilian wax is that there is absolutely no hair left with an extreme Brazilian wax.
Leave It to the Professionals
Although it is possible to do your own Brazilian or extreme Brazilian wax, unless you are a contortionist, it may be difficult to effectively reach all your "areas." It is best to see a professional hair removal specialist for your Brazilian wax. Most waxings take place in a private room at a salon or spa. After being greeted by the technician, you will be left alone to remove your pants and underwear. If you are uncomfortable, you can ask for a paper thong.
Hair Length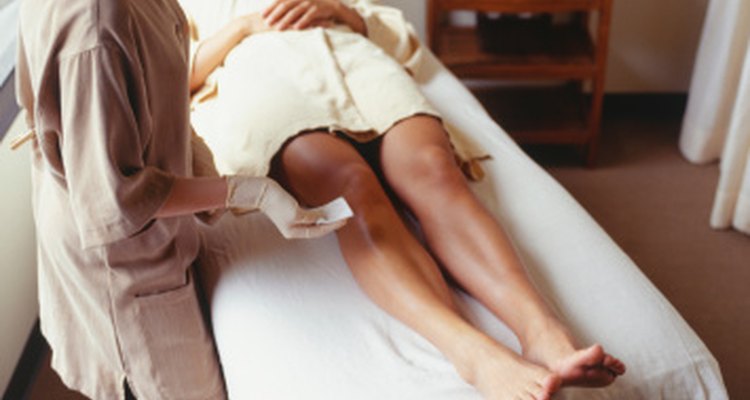 Steve Mason/Digital Vision/Getty Images
For both the Brazilian and extreme Brazilian waxes, only 1/4 inch of hair is needed for the wax to adhere to. Before applying the wax, your technician may use small scissors to trim your pubic hair. A general rule of thumb is that hair should be at least 1/4 inch if it's fine and 1/2 inch if the hair is course. Hair any shorter may be too difficult for the wax to grab onto.
The Process
The waxing process is the same with the extreme and traditional Brazilian waxes. First, the wax technician will apply talcum powder to the skin. Talcum powder is used to keep the wax from sticking to the skin. The most skilled waxers are fast, and their speed will result in less pain and discomfort during the wax session. The waxer will dip a wooden wax stick into the prepared pot of heated wax and spread it onto your hair and skin. If the technician is using a cream wax, a cloth strip will be pressed firmly over the warm wax. When the wax has cooled, the strip will be pulled off in the opposite direction of hair growth, causing the pubic hairs to be pulled out by the root. If a hard wax is used, cloth strips are not needed.
Amount of Hair Removed
If you request a Brazilian wax, the technician will leave a "landing strip" of hair unless you request otherwise. If you request an extreme Brazilian, all the hair will be removed and your pubic area and buttocks will be completely hairless. An extreme Brazilian wax is also referred to as a "Hollywood wax." Once waxing is complete, a soothing aloe lotion will be applied to prevent redness and bumping. Both Brazilian and extreme Brazilian waxes last for three to six weeks. In most cases, the hair will grow back finer and lighter.
Writer Bio
Kesha Ward has been a professional writer since 2010. With a Bachelor of Science in applied economics, she brings more than a decade of experience in public finance.
Photo Credits
Photos.com/Photos.com/Getty Images