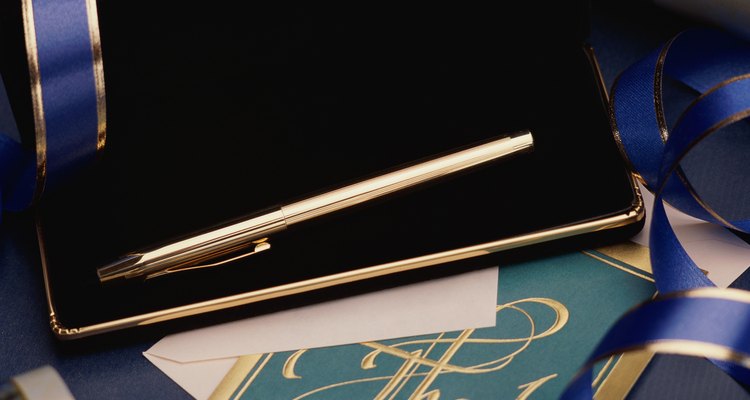 Stockbyte/Stockbyte/Getty Images
Whether you organized an event or a fundraiser, thanking the participants shows your appreciation and generates goodwill for your cause. You've probably already shared words of thanks to those who participated, but writing a thank you letter is a more formal way to express your gratitude.
Write Letters Quickly
You have plenty to do after an event or fundraiser, but you shouldn't put off the thank you letter to participants. Starting the letter before the event saves you time after the fact, so you can get it in the mail within a few days of the event. Customize the letters with details from the event or results from the fundraiser before sending them.
Express Sincere Gratitude
Always open with a direct thank you message to the recipient. Let the participants know they were the reason for the event's success. You might say "Thank you so much for joining us for the [event name] fundraiser. Thanks to you, the event was a huge success, far exceeding our goals and expectations!"
Share Results
Participants appreciate hearing how their efforts contributed to your cause. It makes them feel good and helps them understand their contributions or even just that their presence made a difference. They may be more willing to help out the next time because they realize they were really useful.
If the letter is for having attended a fundraiser, you might include the total amount of donations raised. Share a little about how those donations will help the selected cause. You might even share a story about someone who already received services from the cause. For example, if you're raising money for an organization that offers low-cost breast cancer screenings, you might include the story of someone who received a screening and was diagnosed with cancer at an early stage when treatment is easier.
Provide Follow-Up Information
The point of the letter is to thank participants for showing up and helping out, but it's also your chance to get continued support for your cause. End the letter with a call to action that explains upcoming events or other ways to help. You might also ask recipients to share information about the event. For example, you might include a link to an online photo gallery from the event that people can share with friends. Or send them to your Facebook page, where they can share the content or spread awareness about upcoming events.
Add Extras
Slip in a few extras to make the thank you letter special. You might include a photo or a collage of images from the event as part of the letter. If you use a general thank you letter for all participants, try to include a personal touch to each one if possible. Hand sign the letters to make them seem more personal if you don't have time to add a note.
Tips for Writing Your Letters
Thank you letters to participants are flexible. It's your chance to put your personal spin on the show of gratitude. Use these tips to help create your letters:
Get creative with what you say. A standard "Thank you for showing up" message shows gratitude, but it doesn't stand out. Don't be afraid to do something different.

Reflect the theme of the event in your letter, or use a tone that matches the cause. This helps reinforce the cause.
Include an emotional aspect to the letter when possible. You might share a moving story of someone helped by the campaign to pull at the recipients' heartstrings, for example.
Invite recipients to share feedback or continue being involved if they want.
Proofread the letter thoroughly before sending to make sure it has a professional appearance. Ask someone else to proofread, too.
Resources
"101 Ways to Say Thank You"; Kelly Browne et al.; 2008
Writer Bio
Shelley Frost writes professionally on a full-time basis, specializing in lifestyle, family, parenting and relationship topics. She holds an education degree and has extensive experience working with kids and parents.
Photo Credits
Stockbyte/Stockbyte/Getty Images