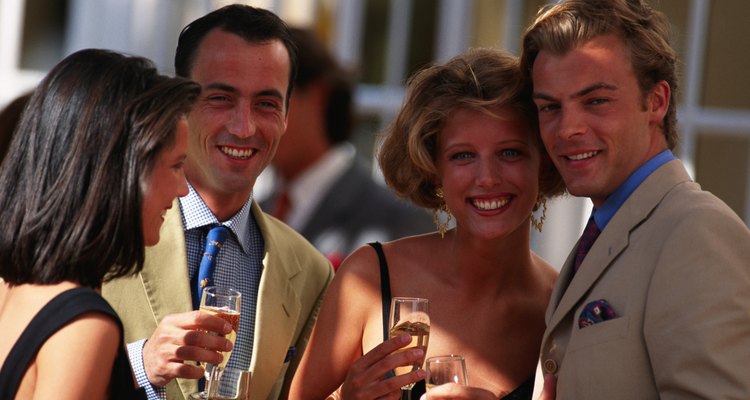 David De Lossy/Photodisc/Getty Images
Class reunions are an exciting and nostalgic time for many of us; however there is a lot of planning and organization that is required to make these events a success. Reunion committee members can benefit from establishing a separate bank account for the high school reunion group to collect donations and fees from fellow class members in order to cover reunion planning expenses.
Contact the IRS to let them know you'd like to establish an Employer Identification Number for your class reunion's banking purposes. The SS-4, or Application for Employer Identification Number, can be completed over the phone, online or by mail. The EIN will be provided immediately upon processing over the phone or online; however, it does take approximately two weeks to receive your official letter containing proof of your newly-established EIN in the mail.
Provide all required information to complete the SS-4, such as the name and address for the organization, your name and affiliation with the entity and the entity's purpose, which is to cover high school reunion planning and organization expenses. Reunion accounts are typically set up in the name of the reunion class: For example, "Bethel High School Class of 2000," requiring at least one 3rd party designee for the account.
Research business checking products that are offered by financial institutions in your area and decide which bank or credit union you would like open your account with. Most banks require a minimum opening deposit of $100 when establishing a new business account; however, the requirements vary by financial institution. In the event that an opening deposit is required, decide beforehand who will be responsible for the fee and be sure to have the funds readily available when you visit the bank.
Take your EIN notification letter to the bank of your choice and let the banking representative know that you'd like to open a non-interest bearing checking account for your class reunion using your reunion's Tax ID. The banker will require government-issued photo identification from each 3rd party designee in order to set them up as authorized users for the account. The reunion's checking account number will be established and a set of starter checks for your account will be issued.
Communicate instructions for alumni to send in their share of reunion fees or dues. This can be done a number of ways, but typically by having classmates send a check payable to the reunion group, which will then be deposited into the account, or by setting up a Paypal account with the checking account to allow alumni to electronically deposit their funds to the designated account.
Use the checking account to begin paying for reunion expenses such as vendor deposits, reservation fees and supplies. Only the designated individuals who were set up as authorized users will be able to write checks or withdraw funds from the account.
Utilize any excess funds in the account, if applicable, to pay for reunion-related expenses such as website maintenance or future reunion event expenses, so as to avoid potential income tax liabilities.
References
Resources
Writer Bio
Based in Virginia, Amanda Banach has been a writer since 2009. Her professional work experience includes roles in media advertising, financial services and human resources. She holds a Bachelor of Arts in human resources management and is PHR-certified.
Photo Credits
David De Lossy/Photodisc/Getty Images