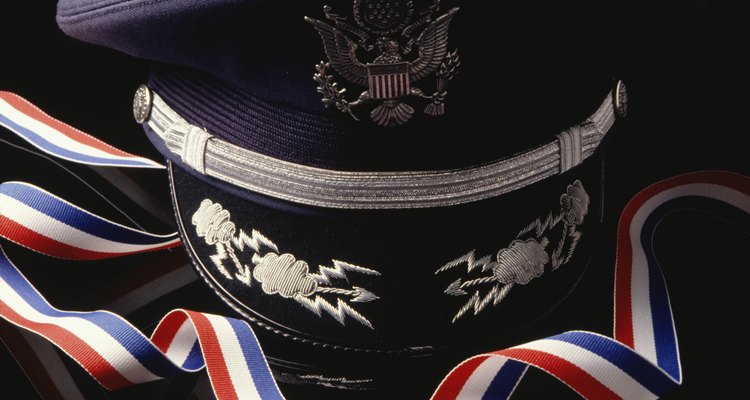 Paul Katz/Digital Vision/Getty Images
The simplest translation for the military terms "formal dress" and "service mess dress" is "white tie" and "black tie." White tie tuxedo or full evening gown equates to formal dress, and a tuxedo or evening gown is the civilian equivalent to service mess dress. There are specific nuances as to who can wear formal dress, and what differentiates formal dress from service mess dress.
Rank Determines Which Dress is Appropriate
Formal dress is reserved for officers only. Worn exclusively for evening functions and state occasions, an officer would wear his formal dress to an occasion civilians would refer to as a "white tie affair." Officers are required to own a mess dress uniform, whereas the mess dress is optional for enlisted. There are recognizable differences between formal dress and mess dress.
Male Formal Dress
For formal dress, officers are required to wear the mess dress coat without silver fasteners, white shirt without military creases, shoulder broad rank, silver sleeve braid, miniature medals, a maximum of four badges, blue trousers with stripping, but without pleats or cuffs, and footwear. A male officer's formal dress is recognizable by the white bow tie with square ends and white single breasted rolled collar vest with a pointed collar.
Female Formal Dress
It is mandatory for a female officer to wear a tie in the traditional military inverted V shape, known as a tie tab. The formal dress tie is made from silver metallic cloth, also called silver lamé. Formal dress requires female officers wear a silver satin cummerbund. If she chooses to wear cufflinks and studs, they must be worn as a set. Additionally, female officers wear the mess dress coat, white blouse without military creases, shoulder broad rank, silver sleeve braid, miniature medals, a maximum of four badges and footwear.
Mess Dress
A male officer's mess dress is recognizable by the blue satin bow tie, white, dark blue or black suspenders and blue satin cummerbund. Also, silver cufflinks and studs are mandatory in the mess dress uniform. A female's officer can be recognized by the tie tab, which is a blue satin inverted V with self fastening tails. The cummerbund is plain blue. Cuff links and studs are optional.
Writer Bio
Based in New York City, Melissa McKee has been writing lifestyle articles since 2009. Her articles have appeared on various women's lifestyle websites. McKee studied writing in The Len and Louise Riggio Honors Program at The New School.
Photo Credits
Paul Katz/Digital Vision/Getty Images