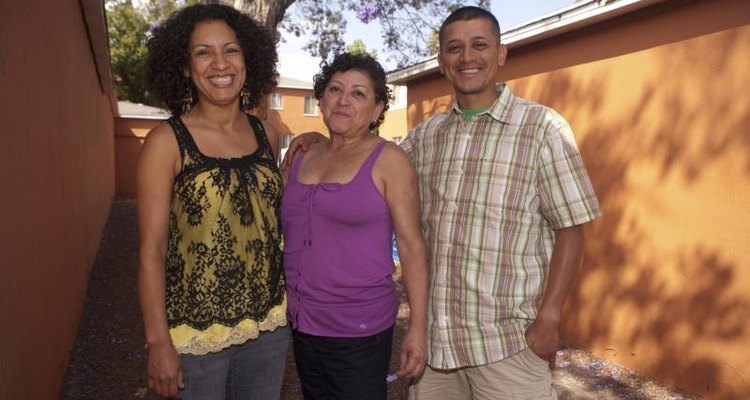 IPGGutenbergUKLtd/iStock/Getty Images
You've been the number one lady in your son's life, but now that he's getting married his wife will become his primary focus. Instead of viewing this negatively, remember that there are now two important women focused on bringing joy to your son's life. You already share a special bond -- a love for your son.
Getting Involved
Help your daughter-in-law feel welcome in the family by including her in family activities. Include her in conversations by bringing her up to speed on topics with which she's unfamiliar. Invite the couple along on your family's Friday night bowling game and make sure she feels welcome to join in the family photographs. You can find a mutual hobby the two of you can enjoy together or volunteer at a local charitable organization that you both support. However, don't feign an interest in something that bores you to death; she'll figure it out eventually and may feel uncomfortable afterward.
Pitching In
Instead of filling her in on the recipes for your son's favorite meals and how he likes his laundry folded, let your new daughter-in-law feel like a contributing member of the family by asking for her help. You can ask her to toss the salad at a barbecue or bring dessert for a family dinner. Ask her to help set the table, but then sit back and chat after dinner while the guys clear the dishes. Seek her advice for your son's Christmas or birthday presents to show that you recognize her personal relationship with your son and value her opinion -- while also helping to ensure your son loves his gifts.
Respecting Boundaries
Give your son and daughter-in-law some time and space to settle into married life. When you're visiting, be sure to call first, and don't show up at the door armed with a mop and bucket to teach her the "right" way to scrub the kitchen floor. Your well-intentioned help might embarrass your daughter-in-law and cause a rift between the two of you. Save your advice unless it's requested; she can figure out how to prune the garden and baste a turkey on her own, and the couple know where you are if they do need your advice. Don't speak negatively about your daughter-in-law behind her back -- gossip has a nasty way of making it back to the victim. Focus on mutual respect and a common goal instead; this isn't a competition, but rather a partnership.
History Lesson
While your son probably filled your daughter-in-law in on the highlights of his childhood, make her feel like a part of the family by recanting a few of your favorite childhood tales -- no embarrassing stories without your son's permission though. Get out the box of family pictures and videos and have a home movie night. Show her the family's ancestry in a family tree and add her name to your son's branch, or if she's taken your son's last name, let her know a little about the history of the name.
References
Writer Bio
Rosenya Faith has been working with children since the age of 16 as a swimming instructor and dance instructor. For more than 14 years she has worked as a recreation and skill development leader, an early childhood educator and a teaching assistant, working in elementary schools and with special needs children between 4 and 11 years of age.
Photo Credits
IPGGutenbergUKLtd/iStock/Getty Images