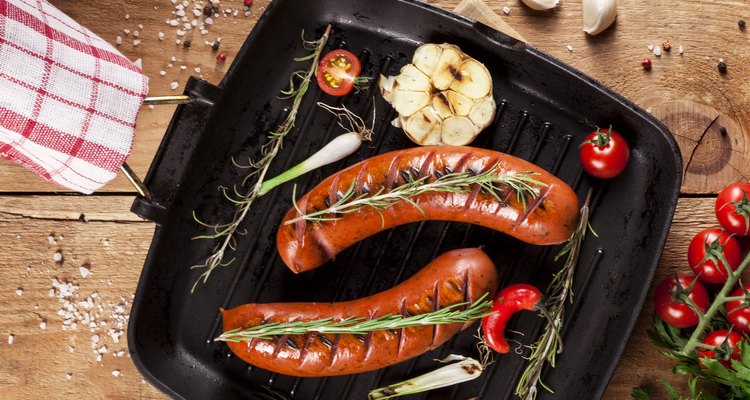 NikiLitov/iStock/GettyImages
Simmer and Sear Your Way to Sausage Success
Sausage perfection sits at the center of a spectrum: At one extreme, you have a moist, fully cooked filling inside a wrinkly casing, and at the other you have a seared-to-burnt casing bursting with undercooked filling. But somewhere around the center you have the best of both – juicy, evenly cooked filling packed into a taut, caramelized casing.
To cook sausage links to balanced perfection, you need to balance the cooking methods – gentle steaming for a moist, tender interior and high-temperature searing for a well-browned, caramelized exterior. But that technique applies to any sausage. To cook the best salsiccia fresca, or fresh Italian sausage, you have to add some distinct Italian touches.
The obvious choice is combining with peppers, onions, garlic and maybe some pleasantly acidic San Marzano tomatoes to contrast the lush fattiness of the sausage. Sausage and peppers is an Italian-American classic for a couple of reasons; the peppers and onions release moisture during cooking, which gently steams the sausage, while the sausage spices and flavorings, such as sweet basil, fennel seeds and red wine, fit the flavor profile of onions and peppers like matching puzzle pieces. If you want to cook the sausage on its own, simply substitute a little water or stock for the peppers and onions.
Total Time: 40 minutes | Prep Time: 30 minutes | Serves: 4
3 tablespoon olive oil
1 large yellow onion, 1/4-inch slices
1 red bell pepper, 1/4-inch slices
1 green pepper, 1/4-inch slices
2 garlic gloves, minced
1 can San Marzano tomatoes, undrained

2 pounds sweet or spicy Italian sausage links

Heat 1 tablespoon of olive oil in a deep, wide skillet (about 12 inches) over medium-high heat for 3 to 4 minutes. Saute the onions and peppers until lightly browned, about 5 minutes.

Add the garlic and continue cooking until aromatic, 3 to 4 minutes. Add the tomatoes, and crush them with a spoon. If you're not using tomatoes, add 1/4 cup of water or stock.

When the tomatoes and peppers start simmering, add the sausage. Cover the pan and lower the heat to medium-low.

Simmer the sausages until they reach 140F to 145F in the center, about 20 minutes; turn the sausages over halfway through cooking. Transfer them to a plate.

Heat 2 tablespoons of olive oil in a saute pan over medium-high heat. Pat the sausages dry with a paper towel and transfer them to the saute pan. Allow at least 1/2 inch of space between the sausages; work in batches if you have to.

Saute the sausages until they develop a crispy caramelized skin, about 1 1/2 minutes each side. The interior of the sausages should be at least 165F.

Serve the sausages on toasted hoagie rolls or hot dog buns and smother them with the tomatoes, onions and peppers. As a family-style meal, slice the sausages into 1/2- to 1-inch pieces and toss them with the pepper, onion and tomato mix.

References
Writer Bio
A.J. Andrews' work has appeared in Food and Wine, Fricote and "BBC Good Food." He lives in Europe where he bakes with wild yeast, milks goats for cheese and prepares for the Court of Master Sommeliers level II exam. Andrews received formal training at Le Cordon Bleu.